Issue #51 / Feb 2005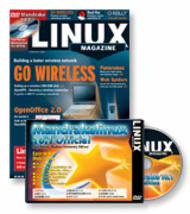 DVD: Mandrakelinux 10.1 Official
LINUXUSER: GFTP
File Transfer with the Versatile GFTP
Whether you like your file transfers with a GUI or from a command prompt,
GFTP has the right tool for every job.The GFTP client also supports advanced
features such as secure file transfer with SSH.
Creating Manpages with groff
Do have difficulty remembering
command syntax? It often pays to
check the manpage. In this issue of
Command Line,we look at how to
create your own manpages,and
how to convert manpages to other
formats.
The Wikipedia Project
The free encyclopedia project, Wikipedia,has compiled no fewer than a million entries in less than four years. And the quality of the entries even surprises experts. But what is Wikipedia and how can you use it? We'll tell you about the exciting Wikipedia project,and we'll show you how you can contribute.
An up-to-date overview of free software and its makers
Projects on the Move Free software covers such a diverse range of utilities,applications,and other assorted projects that it can be hard to find the perfect tool.We pick the best of the bunch.This month we cover the Amarok player,Flightgear, Debian's third revision of Woody,and Skolelinux.
The Monthly GNU Column
This column explores the world of free software from the perspective of the GNU Project and the FSF. In this issue,we focus on:The Java Trap,GNU Classpath,development in Java, and news from the FSFE.
Editor in Chief Joe Casad, jcasad@linux-magazine.com Competence Centers Competence Center Hardware: Mirko Dölle, md......
Visit Our Shop
Direct Download
Tag Cloud