Issue #56 / Jul 2005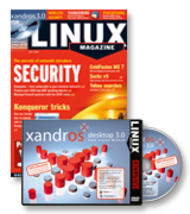 DVD: Xandros Desktop 3.0
Reflections on LinuxWorld Canada 2005
The conference sessions were less than inspiring, but the show had plenty of chemistry.
An up-to-date look at free software and its makers
Free software covers such a diverse range of utilities, applications, and assorted projects that it is sometimes difficult to find the perfect tool. We pick the best of the bunch. This month we cover blogging – the latest buzz, the latest on the DPL elections, and more trouble at Debian.
The Monthly GNU Column
This column looks into projects and current affairs in the world of free software from the perspective of the GNU Project and the FSF. In this issue, I'll focus on Comspari and the EU decision on software patents.
Visit Our Shop
Direct Download
Tag Cloud