Issue #57 / Jul 2005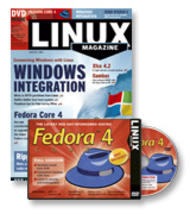 DVD: Fedora Core 4
The Gnome User and Developer European Conference
The city of Stuttgart may not be known as a tourist destination, but Gnome developers from around the world still arrived on schedule for this year's Gnome User and Developer European Conference.
An up-to-date look at free software and its makers
The new Debian Sarge version is finally released after months of anticipation and years of effort. You'll learn more about Sarge and also hear about some promising Linux music tools.
The Monthly GNU Column
This column looks into projects and current affairs in the world of free software from the perspective of the GNU Project and the FSF. In this issue, we take a look behind the drapes at the FSFE Annual General Meeting.
Visit Our Shop
Direct Download
Tag Cloud