Issue #58 / Sep 2005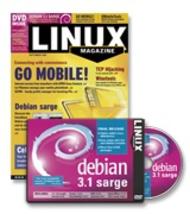 DVD: Debian GNU/Linux 3.1 r0a 'sarge'
The Beagle desktop search engine
To find files, music, messages, and photos in a single search, try this desktop tool with the power of an Internet search engine.
Creating a seamless, tileable texture in GIMP
Graphic artists often face the problem of turning a photograph into an image that will tile over a larger surface. This task is not as easy as it sounds, but if you're up for the challenge, this tutorial will give you a first-hand look at some advanced tools in the GIMP toolkit.
Installing and Managing Gentoo Linux
Gentoo is a powerful and flexible Linux system that you can customize to fit perfectly into your environment. Our workshop describes how to set up Gentoo. We'll also show you how to install and manage software on your Gentoo system with the popular Portage software management system.
Setting Up Windows software on Linux with WineTools
WineTools is an installation program that helps users set up Windows software on Linux without wasting time with experiments.
Insider Tips: The X Window System
Thanks to automatic hardware detection, today's admins rarely need to configure the X window system manually. But if you want to use X11's excellent networking capabilities and tuning options, you will certainly benefit from some background knowledge.
The Sysadmin's Daily Grind: Portfwd
Incoming TCP connections do not always end up where they are supposed to. A freely configurable redirector points digital debris in the direction of a new and better place.
Understanding and preventing TCP attacks
It is quite easy to take a TCP connection down using a RST attack, and this risk increases with applications that need long-term connections, such as VPNs, DNS zone transfers, and BGP. We'll describe how a TCP attack can happen, and we'll show you some simple techniques for protecting your network.
Comparing Perl XML parsers
XML is one of today's most popular data exchange formats. Perl has a huge collection of methods for handling XML. This month's Perl column discusses the pros and cons of the most common XML modules to help you choose the best tool for your job.
Accessing your mobile phone with KDE
Composing text messages on a mobile phone isn't easy. A handy application called KmobileTools helps you manage your SMS messages and calls.
Quick launcher for the desktop
Desktop icons are not the only way to launch programs; in fact, a kicker that is not hidden by a muddle of windows is often preferable. Tablaunch is a flexible and attractive program launcher for the Linux desktop.
Visit Our Shop
Direct Download
Tag Cloud