Issue #66 / May 2006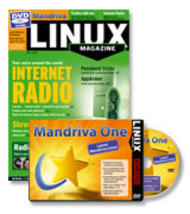 DVD: Mandriva One
Community Notes
It's already March as I write this. I'm quite amazed at how time flies if you're not carefully keeping an eye on it......
An up-to-date look at free software and its makers
Conary promises a new approach to package management, and the Ecology howto provides tips on sustainable computing. We'll also look at Stopmotion, a tool for creating cartoons, and we'll tell you about the latest Debian controversy.
Visit Our Shop
Direct Download
Tag Cloud