Issue #70 / Sep 2006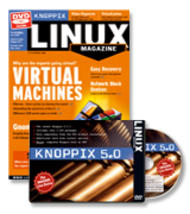 DVD: Knoppix 5.0.1
Using tar to prepare for an emergency
Use a tarball to restore your system in next to no time – without a complete re-install.
Dedicated Gnome desktops with Pessulus and Sabayon
Gnome version 2.14 includes new features for restricting the user's access to the system. The Pessulus lockdown editor and the Sabayon profile editor help manage the Gnome user experience.
No DVD Boot Regarding the "No DVD Boot" problem in Linux Magazine, issue #64 / March 2006, p50, where the BIOS woul......
The Sysadmin's Daily Grind: HTTP Antivirus Proxy
Browsers live in continual danger of compromise by a malicious site. An intermediate proxy combined with a virus scanner can help.
A new mission for the network block device
You don't need Samba or NFS to support a diskless client. A remote block device can help improve performance and efficiency. We'll show your how.
Internet video organizer in Perl
Video files are ready for download, but your storage space is limited, and, if you're like most people, you may have a hard time letting go of past favorites. You need a higher authority to decide when it's time to trim down your collection.
Desktop searching with Beagle on KDE
If you have given up hope of ever finding your way around the mess of data on your desktop, a desktop search engine can help you penetrate the gloom. Kerry and KBeaglebar bring the Beagle engine to the KDE desktop.
Metacity add-ons Brightside and Devil's Pie
If the no-frills Metacity window manager doesn't give you the functio nality you need, try the Metacity add-ons Brightside and Devil's Pie.
Writing fiction with Writer's Cafe and StoryLines
If you're looking for a way to organize your next novel, try StoryLines and the Writer's Cafe suite.
Bash tricks
A few basic tricks can liven up the command line and add a dash of color to your console.
Visit Our Shop
Direct Download
Tag Cloud