Issue #70 / Sep 2006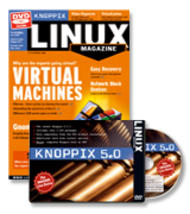 DVD: Knoppix 5.0.1
Community Notes
July is upon us! It's amazing really how fast time flies when you're having fun (or suffering from one too many boo......
An up-to-date look at free software and its makers
OpenWRT puts Linux on WLAN routers and helps users set up large-scale WLANs at home, and the FreeWRT derivative adds a professional touch. If you don't have your own compile farm, the OpenSUSE build service may be just what you need. And we investigate the obstacles to new packages for Debian.
Visit Our Shop
Direct Download
Tag Cloud