Issue #74 / Jan 2007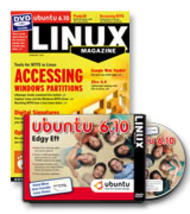 DVD: Ubuntu 6.10 'Edgy Eft'
A preview of the Xfce 4.4 Desktop environment
Xfce is a light and flexible desktop alternative. We took a look at what's coming with the latest version.
Digital signatures for documents and email
We'll show you the free and easy way to set up digital signatures for office documents and email.
The Diffutils tool collection
The Diffutils tool set helps you compare text files, discover and display the differences between files, and even automatically synchronize files.
Remembering LinuxWorld UK
This year's UK LinuxWorld brought out the usual blend of speeches, products, conference sessions, and aisle antics.
An up-to-date look at free software and its makers
The /etc/ directory contains thousands of files, and it is easy to lose an office document in its murky depths. Managing directories files via FTP can be time consuming. We'll investigate utilities that help you keep track of your files. Also in this issue: Trouble at Debian and Future Fears, starring Dunc Tank, Anthony Towns, and Matthew Garret.
Community Notes
Jon catches up with Linux users in London and rounds up the activities of some Linux User Groups around the world.
Visit Our Shop
Direct Download
Tag Cloud