Issue #75 / Feb 2007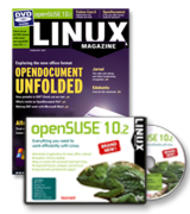 DVD: openSUSE 10.2
Exploring Ubuntu's cousin for the classroom
Don't know much about history? Don't know much biology? Don't panic: Edubuntu will lead you to the wonderful world of classroom Linux.
Remote access despite blocked SSH ports with Ajaxterm
Public Internet access is often protected by restrictive firewalls, and you have no chance of running SSH. However, HTTPS over port 443 is typically permitted. Ajaxterm lets mobile users login to their home servers.
Klaus Knopper is the creator of Knoppix and co-founder of the LinuxTag expo. He currently works as a teacher, programmer, and consultant. If you have a configuration problem, or if you just want to learn more about how Linux works, send your questions to: klaus@linux-magazine. com
The Sysadmin's Daily Grind: Postfilter
If protocols were human beings, NNTP would be a kind and slightly confused person that always believes the best of other people – even if they drop trash in the mailbox. Postfilter gives NNTP a watchdog.
Three case studies in the life of an admin
A day on Charly's network might bring out problems with Ethernet bonding, VLANs and switches, and rogue DHCP servers.
Keeping an eye on the network with Argus
Argus helps you monitor the flow of data on your network, detect trends, discover worms and viruses, and analyze bandwidth usage.
Digging down into Perl hood with the debugger
The Perl interpreter, perl, doesn't often crash, but if it happens, not even the excellent Perl debugger will be able to help you.
OpenDocument and the office experience
OpenDocument format offers a new approach to data storage and document exchange for office applications. But what does ODF mean for the user? What's inside an ODF file? How portable is ODF? We examine these questions in this month's cover story.
GUI-based firewall configuration with KMyFirewall
Linux has a fantastic selection of firewalls for securing stand-alone computers or whole networks. Although you can use IPTables to set up a firewall, the configuration is often the most difficult step. KMyFirewall offers a powerful, user-friendly, GUI-based approach.
Taking notes with Jarnal
Jarnal provides some handy features that make this application more than just a note-taking tool.
Visit Our Shop
Direct Download
Tag Cloud