Issue #79 / Jun 2007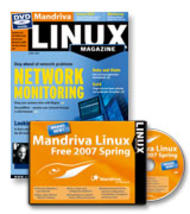 DVD: Mandriva 2007 Spring
Editors for the shell
More is not always better, especially at the command line. Lean text editors such as nano, JOE, and ee fit Linux novices and experts alike.
An interview with the founder of the Ubuntu Project
Mark Shuttleworth talks to Linux Magazine contributing editor Mathias Huber about the upcoming Ubuntu release Feisty Fawn and Ubuntu Live.
Evolving with Novell at Brainshare 2007
Novell's new integration emphasis was on display at their annual Brainshare conference in Salt Lake Ciy, Utah.
An up-to-date look at free software and its makers
The people behind Wikipedia have launched the Search Wikia project, which hopes to compete with the major search engines through a mixture of large community and sound financial backing.
Visit Our Shop
Direct Download
Tag Cloud