Issue #88 / Mar 2008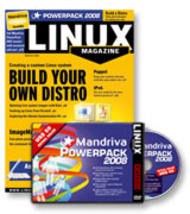 Reconfigure your network connection with isp-switch
When an Internet provider goes down, users suffer. Alternatively, users can immediately switch to another ISP. We'll show you a Perl script that can help you reconfigure your computer to make the switch.
LINUXUSER: Gnash
Free player for Flash movies
Until recently, the Flash format has been the uncontested domain of Adobe. Gnash introduces a free Flash player for Linux and BSD with a design that aims far beyond the capabilities of Adobe's king of the hill.
Image processing on the console
GIMP isn't the only option for photo manipulation. ImageMagick, a collection of command-line programs for image processing, can help you process multiple images in one go.
Word processing with DokuWiki
DokuWiki offers some capabilities not found in other web-based word processors. We'll show you how to build your own web-based word processing tool with DokuWiki and a few plugins.
Video and audio players for the shell
MPlayer and MEncoder have considerable potential, and you can control them by means of intelligent command-line options. We'll put both programs to work.
An up-to-date look at free software and its makers
The first community-driven version of OpenSolaris burst onto the distribution scene. In other news, Linux is now available on a modular system the vendors describe as an open hardware platform.
Visit Our Shop
Direct Download
Tag Cloud