Issue #89 / Apr 2008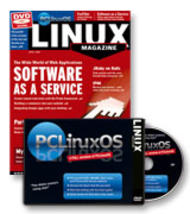 Firefox content filters
Firefox has a reputation of being the most innovative Web browser. We show you how to apply Firefox's distribution-specific tools to make browsing the web safer for your children.
Searching logfiles with tail, grep, and company
If your hardware or software goes on strike, or the graphical system or your Internet connection fail, checking the logfiles can often be a big help. In this month's column, we will look at the command-line tools that can help you scour the depths of these critical files.
Linux down under at Linux.conf.au 2008
Melbourne, Australia played host to the 8th annual Linux.conf.au conference at the end of January, drawing a capacity crowd of open source professional developers, enthusiasts and students from around the globe.
Report from the KDE version 4 release event
Formally introduced in January, the latest KDE promises new features, improved accessibility, and a regular release schedule.
The 24th Chaos Communication Congress in Berlin, Germany
In late December, cable docks, soldering stations, templates, 4,000 participants, and 100 talks were active ingredients in the 24th Chaos Computer Congress.
An up-to-date look at free software and its makers
Accessing visible files in an "Open" dialog is a thing of the past now that application launchers like Gnome Do help you launch the right program. We'll also check in with Wikia Search.
Visit Our Shop
Direct Download
Tag Cloud