Issue #92 / Jul 2008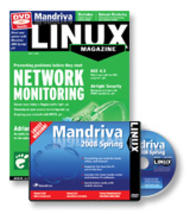 Protecting your systems against bad guys
We'll show you how the lessons learned in the 1980s movie "The Karate Kid" can be applied to securing your systems.
Supporting virtual servers with Server Name Indication
Server Name Indication lets you operate more than one SSL-protected service per IP address.
Perl scripts watch Amazon prices
If you are a bargain hunter, you might enjoy this Perl script that monitors price developments at Amazon and alerts you if Amazon suddenly drops the prices on the products you have been watching.
Vector graphics with Inkscape 0.45.1
Inkscape has always been good, but now version 0.45.1 of the vector drawing program shows a totally new creative aspect.
Managing music
Originally inspired by Apple's iTunes, Rhythmbox organizes your music collection, and more.
Getting the most out of FreeMind
Learn how to master the advanced features of the FreeMind mind-mapping application to get the most out of this useful tool.
Compressed text files
Gzip and bzip2 not only compress files, they also provide lean and powerful tools for viewing, searching, and comparing text files.
Linux, radio, and rock 'n' roll converged in San Francisco
In mid-April, LugRadio Live landed at the Metreon Theater in San Francisco for two days of music, mixing, Linux, and live recording.
An up-to-date look at free software and its makers
Free software enjoys an excellent reputation in the field of 3D graphics. In addition to Blender, other projects stand out: MakeHuman creates realistic 3D humans, and Art of Illusion – with its intuitive interface – lets users enter the world of animated movies.
Visit Our Shop
Direct Download
Tag Cloud