The sys admin's daily grind: Getting wet at LUG Camp
Wet Zone

Charly reports from LUG Camp in Flensburg, Germany. The fact that Charly got wet has nothing to do with absent mindedness, but much to do with the sheer wetness of the event.
Each of the eight previous LUG Camps [1] has been characterized by something special, including indoor camping in an old factory building at the Wuppertal Camp in 2005, or unusual locations, such as the Brienz shipping company's dry dock, where the Swiss branch hosted an amazing event in Interlaken.
What Flensburg had to offer in 2008 was commitment. LUG obviously only recruits members who have (too) much time and energy – excellent prerequisites for hosting this year's LUG Camp, which has alternated between Germany, Austria, and Switzerland for nine years.
Floating Penguins
Naturally the fringe program would have something to do with water because, after all, Flensburg does host the Rum Regatta [2], and it was safe to assume there would be more than just a visit to the beach. In the Rum Regatta, the goal is to come in second; the first-placed team leaves empty handed.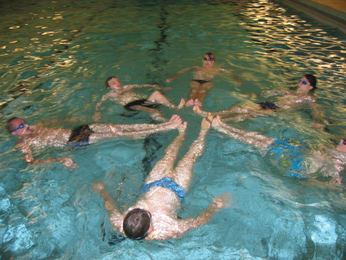 Despite this, some 70 Linux geeks were still fairly surprised to be invited to join in with swimming tests. The organizers in Flensburg had rented the local baths for the afternoon and welcomed us with a synchronized swimming display that they had been practicing for almost a year. They really exhausted themselves, and weren't afraid to make fools of themselves to cheer up the audience with dry swimming displays [3].
We were touched, and jumped in at the deep end to take the swimming challenge from "Penguin" level – which is about what any normal seven-year old might be expected to achieve – to "Dead Tux" level – the name speaks for itself.
Blind Presentation
They also had a morning program, which the organizers took far too seriously. One of the mainstays at LUG camps is to drag somebody onto the stage and let them talk about a subject they haven't a clue of that is based on an OpenOffice presentation written by somebody else. Strangely, I seem to suffer from jet lag when I get back from some German venues, and Flensburg was one of them. If you are interested in experiencing the same kind of time warp, why not visit LUG Camp next year.
Check online for an event near you [4] [5]. Look forward to seeing you.
comments powered by

Disqus
News
Both projects help organizations build their own containerized systems.

Mark Shuttleworth has resumed the position of CEO of Canonical.

Microsoft's open source code hosting platform CodePlex will come to an end after a more than 10-year stint.

Comes with Gnome 3.24

The bug was introduced back in 2009 and has been lurking around all this time.

The new release deprecates the sshd_config UsePrivilegeSeparation option.

Lives on as a community project

Five new systems join Dell XPS 13 Developer Edition that come with Ubuntu pre-installed.

The Skype Linux client now has almost the same capabilities that it enjoys on other platforms.

At CeBIT 2017, OpenStack Day will offer a wide range of lectures and discussions.
Tag Cloud