What's new in openSUSE 11.0
Kicking the Tires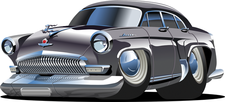 The second major release since SUSE became a community project is looking good. We took openSUSE 11.0 for a test ride.
The first SUSE Linux release – an open source Linux distribution developed entirely by a company known as SUSE – arrived in 1994.
In 2005, Novell acquired SUSE and later announced plans to open up the development process to community involvement.
SUSE Linux 10.0 was released in October 2005 and was the first SUSE release to have public beta testing. Version 10.3, now named openSUSE, was released in October 2007.
Novell's commercial version of Linux, SUSE Linux Enterprise, is based on openSUSE. I took a closer look at the openSUSE 11.0 release candidate soon before the final release.
What's Inside
OpenSUSE 11.0 includes the default kernel 2.6.25.4-8, either the Gnome 2.22 or KDE 4 desktop, Firefox 3 (beta 5), and OpenOffice version 2.4.0. GIMP 2.4.5 is not a default install but it is included. The Evolution Mail and PIM client, Tasque task manager, Ekiga software (for VoIP and other similar applications), and Pidgin instant messaging client are all installed by default.
Install
To get openSUSE 11.0, you can download either a CD or a DVD, but currently the DVD is only available via BitTorrent. If using the CD, you have to choose either Gnome or KDE, although you can add the other desktop post-install. The CD is a Live CD, so you're free to try it out before you actually go for the full install. For my review, I downloaded the Gnome 2.2 version of the Live CD.
The initial CD boot screen gives you a choice of languages via a nice graphical splash screen. Booting from here took a while on my slightly elderly test machine, and it gave a few console log messages ("Backtrace…") that might be alarming to a new user. At least some previous versions of SUSE have had a graphical boot process that hides the full boot console text by default but also gives you the option to see it.
After the Live CD booted, everything seemed to work fine. One slight niggle was that my UK keyboard wasn't picked up – I got a US keyboard map instead – which is a shame considering that I was able to choose UK English as the language. The install procedure is standard for a Live CD distribution, with a big Install button to click (Figure 1).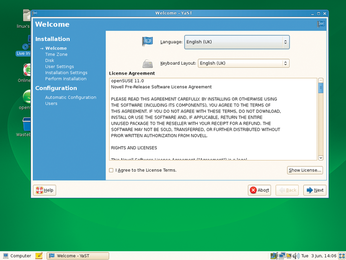 The install procedure was largely straightforward, and my keyboard issue was rapidly corrected; however, there was a slight problem with partitioning. The install process automatically generates a suggested partitioning, which in my case would have involved deleting, resizing, and writing over both of my existing partitions, although I only wanted the / partition to be formatted.
I chose Manual partition, but the partition table I was given to edit was the new one, and it wasn't clear what changes had been made to my old partition setup. I had to click reread partition to get my old partitioning back and restart from there. Although you are asked for confirmation before any new partition table is written to disk, this would have been a little confusing for new users who wanted to keep part of their old setup. On the other hand, the proposed re-partition is sensible if you are happy to lose all your current data.
Pretty much everything else in the installation is done for you – the installer guesses reasonable defaults and then offers you the option to change them. Other than the partitioning, I left the installer to it and got a sensible set of defaults. Also, it picked up my DHCP network with no problems.
To finish the install, just reboot. This is a slightly old-fashioned approach; it would be better if all configuration was done before the reboot. After rebooting, everything attempts to configure itself automatically. In my case, this was entirely successful. (I liked the "do not panic!" message when X11 turns itself off and on again to check its settings.)
I could have done with a bit more clarity when setting up users – you set up a regular user first, and then the root user. I was expecting the other way around and was uncertain whether I should be using the first screen to set up root. When I tried to do so, permission was refused because root already existed; the root password was set on the next screen.
Perhaps this is intended to be new-user friendly, but in that case, I'd have expected more explanation of what the root password would do.
I also found the repository list not entirely user friendly, with a long list of repositories, some of which are labeled "recommended." However, to find these "recommended" repositories, you must scroll through the information on each to see the note at the bottom.
Additionally, at the top of the list is a developer repository labeled as expert-only. Splitting the repositories into two lists – "recommended" and "extra" – might be more helpful to the beginner, or even to an experienced user who isn't familiar with the openSUSE repository setup.
The install process provided a relatively small set of packages, and I had to install other programs manually. On the upside, this leaves you with plenty of disk space, and openSUSE will install happily into a relatively small partition; my installation used about 2GB. On the downside, this makes it a little less usable out of the box. For example, I had to install Vim manually. Also, you'll need to run an update immediately, but it's not clear how to do so. I updated via the install manager, but I expected something more obvious.
New Features
OpenSUSE 11.0 includes a long list of new features, most of which are bug fixes that shouldn't be that obvious to the user, but others are worth a closer look. One new feature is that ext3 fsck check has been switched off. On most systems, this is the check that is set to run after a number of days without fsck being run. With a journaling file system such as ext3, this shouldn't be necessary, and it invariably crops up at the most inconvenient time for the user. I've been bitten before by an unexpected reboot taking far more time than I'd wanted because of this, which can be a real nuisance if, for example, you're recovering from a power outage.
Packages can now be filtered by keyword in YaST, which is a first in a Linux distribution, according to the openSUSE development team. This does seem like a big improvement – my experience with Debian is that you have to do your package research outside the install tool. With openSUSE, you can do it from within the install screen, which is faster.
UMTS network cards are now supported, and tablet PC support was improved. PDAs and mobile phones are now plug-and-play (although I didn't test this myself). For CUPS and LPD, various printer idiosyncrasies have been fixed. On the desktop, an easy time/date applet has been added and works as expected. Overall, nothing too dramatic, but a sensible set of improvements.
Comments
Multimedia Pack Portable For OpenSuse 11

I have created a Multimedia Pack portable for Open Suse, the included programs and codecs are:

1) kchmviewer
2) mplayer, mplayer plugin
3) audacious
4) k3b, k3b-codecs
5) sox
6) devede
7) audacity
8) avidemux
9) ffmpeg
10) transcode
11) ntfs-config
12) vlc
13) libdvdcss
14) w32codecs
15) xine
16) xmms
17) dvdShrink
18) k9copy
19) Gtkpod
20) Acetoneiso
21) Furiousiso
22) DVD::RIP
23) Amarok
24) Kaffeine
25) kmplayer
26) Kdvdcreator
27) K3guitune
28) Kdvdauth
29) DVDAuthorWizard
30) Kguitar
31) Mjpegtools
32) Soundconverter
33) Gdvdcreator
34) Asunder
35) Brasero
36) Smplayer
37) LMMS
38) winff
39) KmediaFactory
40) DVD2Xvid

you can install any of the above without internet, they include all the dependencies, just unzip the both files into a folder named MMP2008 and create a repository from that folder as a simple rpm folder in yast, then make a search in the yast installer with the name of the program and check it to install it, this is very important if you don`t have internet at home, and besides, by default Open Suse doesn`t include several codecs due to license matters, most of the rpm files comes from the packman repo.

I created a blog about the MMP 2008 where you can download the pack:

http://easgs.wordpress.com/...ia-pack-2008-for-open-suse-11/


re:What's new in Suse 11.0 by Juliette Kemp

It was mentioned that there is no way to change the "start menu."

There is!

Right-click on the start button,then change it to the original Suse style menu.
comments powered by

Disqus