Issue #96 / Nov 2008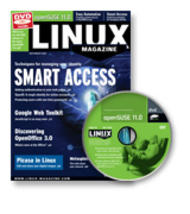 DVD: openSUSE 11.0
Adding authentication to your website
Apache offers several options for adding a password-protected area to a website.
First Look at OpenOffice.org 3.0
The previous major releases of OpenOffice.org didn't disappoint, so hopes are high for the upcoming version 3.0 of one of the most important open source applications around. We look at what mouth-watering goodies the new version has to offer.
Automating tasks in OpenOffice
You don't have to be an expert to get started with OpenOffice's Basic programming interface.
Free computer algebra with Maxima
This free algebra tool helps you keep ahead of the calculations.
Klaus Knopper is the creator of Knoppix and co-founder of the LinuxTag expo. He currently works as a teacher, programmer, and consultant. If you have a configuration problem, or if you just want to learn more about how Linux works, send your questions to: klaus@linux-magazine.com
The Sysadmin's Daily Grind: FireHOL
If you don't have time to tinker with complicated firewall rules, you might want to check out the clever FireHOL approach.
How hacking got easy
When it comes to security, public disclosure of vulnerabilities and working exploit code is now common. We look at why this can be both harmful and helpful to securing your systems.
Intrusion Detection with the Snort IDS
Search out hidden attacks with the Snort intrusion detection system.
Visit Our Shop
Direct Download
Tag Cloud