Practical add-ons for Thunderbird
QuoteCollapse
NestedQuote Remover has a close cousin called QuoteCollapse [5] that offers the same functionality when reading email as NestedQuote Remover offers when replying. In contrast to other extensions, this add-on is not configured in the Extension Manager.
The project homepage lists tips for modifying the tool's behavior by editing the configuration files.
When you open a message with multiple quote levels, Thunderbird first uses a compacted view (see Figure 4), thus saving space. If you need more information, you can expand each level successively by clicking on the small "+" character (see Figure 5). The plugin improves readability and visibility, especially for extended discussions on mailing lists. Unfortunately, QuoteCollapse developers only officially support Thunderbird up to version 1.5, but not 2.0 or newer. In our lab, the plugin worked perfectly with more recent versions of Thunderbird.


To install the plugin on these versions, use a workaround. First, create a key called extensions.checkCompatibility of type Boolean and with value false below Edit | Settings… | Advanced | General | Edit Configuration…. This keeps Thunderbird from checking the add-ons for compatibility at start-up time. A word of caution: This applies to any extensions you have installed and could cause unanticipated problems.
Quicktext
Quicktext [6] helps users quickly insert signatures or text blocks into messages. Compared with other extensions covered in this article, Quicktext has the biggest repertoire of functions.
In addition to all of the features offered by the free version, the commercial Pro variant includes options for using a script engine or sharing templates from a shared resource with other users. In this article, I'm only covering the powerful and free version.
By default, Quicktext gives Thunderbird the ability to assign a signature to each identity, and the signature changes depending on the sender selection.
If you need a single identity for multiple signatures – for example, for private and business events and different languages – the integrated signature management program just won't cut it, which is precisely where Quicktext is needed. It saves various text blocks as templates, which are available as keyboard shortcuts.
In contrast to Thunderbird, Quicktext does not automatically insert a separating line before the signature, so you will need to add the line manually.
Inserting Keywords
Start by configuring the keyboard shortcuts in the General tab of the program preferences, which you can access via Tools | Quicktext.
Then add a group in Templates. Although you could call the group Signatures, this title is only used internally. Next, use the large text field to add the signature itself. To extend the signature as needed, you can use variables. Finally, define a Shortcut.
In the previous example (Figure 6), pressing Alt+1 while composing an email inserts a signature titled private. Alternatively, you can use the toolbar that Quicktext integrates with the message editor.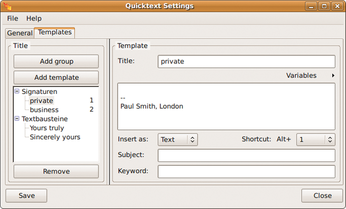 Besides managing signatures, Quicktext also understands keywords, which give users a convenient approach to inserting standard phrases with the press of a button. The configuration is similar to setting up signatures. First, create a template, preferably in a group of its own. Instead of entering a keyboard shortcut, this time enter a keyword, for example, wkr for With kind regards (Figure 7).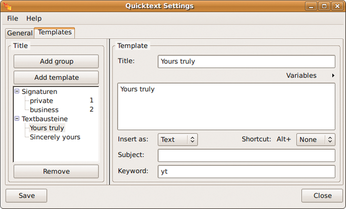 In the future, when you compose an email, you can simply type wkr and press Tab to tell Quicktext to insert the text block. This is a useful timesaver, especially for users with a heavy email load, and you can start thinking about adding more set phrases.
comments powered by

Disqus
News
Both projects help organizations build their own containerized systems.

Mark Shuttleworth has resumed the position of CEO of Canonical.

Microsoft's open source code hosting platform CodePlex will come to an end after a more than 10-year stint.

Comes with Gnome 3.24

The bug was introduced back in 2009 and has been lurking around all this time.

The new release deprecates the sshd_config UsePrivilegeSeparation option.

Lives on as a community project

Five new systems join Dell XPS 13 Developer Edition that come with Ubuntu pre-installed.

The Skype Linux client now has almost the same capabilities that it enjoys on other platforms.

At CeBIT 2017, OpenStack Day will offer a wide range of lectures and discussions.
Tag Cloud