Issue #100 / Mar 2009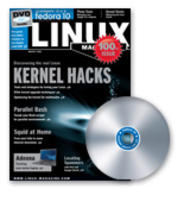 Using the Nintendo Wiimote with Linux
Nintendo's Wii game console includes the popular Wiimote control. Have you ever wondered whether the Wiimote works with Linux?
Open source laptop tracking and recovery
If you use a laptop, you have a good chance of having it lost or stolen. Learn about Adeona, a reliable open source system that can help you locate your lost or stolen laptop.
Monitoring your system with Conky
This light-weight system monitor keeps you informed about your computer's performance.
Effective netbook photo tools
Find out how to turn your netbook into a fabulous photo tool.
If Windows were Software Livre…
If Windows were free software, would maddog use it?
The 2009 Open Source Horoscope
We gazed into the heavens of cyberspace for the first Open Source horoscope back in our 50th issue. We thought the occasion of our 100th issue would be a good time to visit the stars once again.
An up-to-date overview of free software and its makers
Finally there's a free alternative to the proprietary Flash on the web. Unfortunately, it implements Microsoft technology whose software patents might render the free Moonlight license useless.
Visit Our Shop
Direct Download
Tag Cloud