Issue #101 / Apr 2009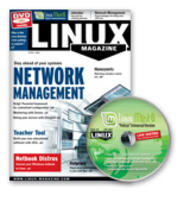 Netbook-friendly Linux distributions
Would you like to change the Linux distro that came with your netbook or convert your Windows-based netbook into a Linux machine? We take a look at some netbook-friendly Linux alternatives.
Small scale DNS and DHCP with Dnsmasq
Dnsmasq is a practical alternative for DNS on a small scale.
Public key infrastructure with the Dogtag certificate system
If you are looking for more control of your public key infrastructure, try the powerful Dogtag certificate system.
The Ratproxy security scanner looks for vulnerabilities in web applications
Google's Ratproxy is a free testing tool that searches for security problems in web applications.
Klaus Knopper is the creator of Knoppix and co-founder of the LinuxTag expo. He currently works as a teacher, programmer, and consultant. If you have a configuration problem, or if you just want to learn more about how Linux works, send your questions to: klaus@linux-magazine.com
The Sysadmin's Daily Grind: Uptimed
Who has the longest uptime? Linux systems used to win hands down when it comes to maximum uptime without rebooting. Today, uptime statistics help admins with monitoring tasks and discovering tricky bugs.
Why you can't just disable JavaScript
As ugly and hard to secure as JavaScript is, it could be worse – we could be using ActiveX.
Security-conscious admins can use a honeynet to monitor, log, and analyze intrusion techniques.
Visit Our Shop
Direct Download
Tag Cloud