Creating a submission tracker with OpenOffice.org Base
Track Your Paper Trail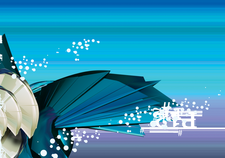 Writers who submit papers to publications can create a database to track and report the status of their projects.
For a writing professional, a tool that keeps tabs on submissions is as important as a time-tracking utility. If you write for a living, you might want to build a custom solution with OpenOffice.org Base. In this way, you can learn a few useful database techniques in the process, create an application that suits your specific needs, and re-purpose it easily for other duties, such as a simple document archiving tool or a document management solution.
To start, you want to create a new .odb database. As with any database, the first order of business is to create a table to store all the required data. First, switch to the Tables section and click on the Create Table in Design View link. Which fields you add to the table depends largely on what kind of data you want to store in the database (Figure 1). In this case, I want to add the following fields: ID (a primary key), Title (text field for storing article titles), Publication (text field to store publication names), Notes (text field to store miscellaneous notes), DateSubmitted (date field to store submission dates), DatePublished (date field to store publication dates), FileName (text field to store file names), and FileObj (binary field to store files). Once the table is ready, give it a name (e.g., submissions) and save it.
The next step is to create a form that will act as a graphical front end to the data stored in the submissions table. To create a new form, switch to the Forms section and click on the Create Form in Design View link. Creating a form with the Form Designer is rather straightforward. All you have to do is to add the fields to the form and then specify their properties. However, a couple of things require some additional work.
[...]
comments powered by

Disqus