Managing reminders and microblogs in OpenOffice
Creature Comforts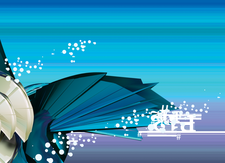 If you spend a lot of time in OpenOffice, you can use it to remind you of deadlines or to update your microblog.
Although OpenOffice Basic is not the most powerful and flexible programming language out there, you can still create some nifty solutions with it. For example, with a simple macro and a database, you can add a reminder feature to help you keep tabs on your deadlines. How about a macro that lets you update your Identi.ca or Twitter status directly from within OpenOffice? If this sound good, then read on.
Adding a Simple Reminder Feature
As a busy professional, you might already have a calendaring solution that helps you keep tabs on your tasks. However, if you spend most of your time in OpenOffice, you might want to add a simple reminder feature that alerts you to upcoming events and overdue tasks every time you launch the productivity suite. To do this, you need two things: a simple database for storing tasks and a macro that pulls the data from the database and displays it in a window.
To start, create a new OpenOffice Base database called TaskDB. When you create the database, make sure that the Yes, register the database for me option is selected. Once the database is created, switch to the Tables section and create a new table in the design view. Now add at least three fields: ID (INTEGER primary key), Task (VARCHAR to store task descriptions), Date (DATE to store deadlines), and Done (BOOLEAN to mark tasks as done). Then save the table under the tasks name (Figure 1).
[...]
comments powered by

Disqus