Issue #109 / Dec 2009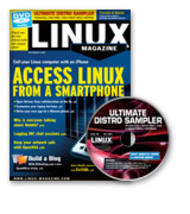 Jolly Interesting Netbook Distro
This alternative interface for netbooks ditches the desktop metaphor.
Moblin: Radically Different Netbook Distro
This alternative desktop is designed specifically for computers harboring Intel's Atom processor.
Tracking SQL statistics with ExtSQL
ExtSQL provides detailed usage statistics for MySQL and PostgreSQL database systems.
Klaus Knopper is the creator of Knoppix and co-founder of the LinuxTag expo. He currently works as a teacher, programmer, and consultant. If you have a configuration problem, or if you just want to learn more about how Linux works, send your questions to: klaus@linux-magazine.com
The sys admin's daily grind: Miredo
The move from IPv4 to IPv6 must be gradual rather than abrupt. After just two minutes of configuration work, Charly leans back and watches his first IPv6 packets pass through a Miredo tunnel.
Dissecting network traffic
Building a network flight recorder with Wireshark.
Exploring the OpenVAS vulnerability scanner
If you prefer to travel light and free, try OpenVAS, a GPLed fork of the Nessus scanning tool.
...
A Perl script logs chat sessions
The IRC (Internet Relay Chat) protocol lets you program bots as automatic helpers. In this month's column, we let a bot log a session and store the results in a database.
Remotely controlling digital cameras with gPhoto
Commercial software that lets users remotely control their camera usually is not available for Linux. gPhoto gives users a free alternative.
Visit Our Shop
Direct Download
Tag Cloud