Nifty Firefox extensions
ReminderFox
Because you spend most of your time in Firefox, it only makes sense to use it for keeping tabs on your to-dos and reminders, which is exactly what the ReminderFox extension [10] allows you to do. Although it's not a full-fledged calendaring tool, it provides all the features you need to manage your tasks with minimum effort. Besides reminders and to-dos, you can use ReminderFox to create so-called quick alarms, which you can use to help you remember small things (Figure 6).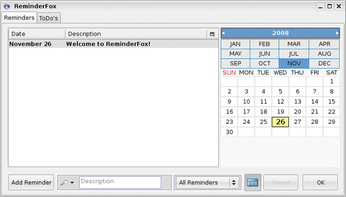 In addition to the default sections Reminders and To-dos, you can create custom task lists and group your tasks by type. For example, to keep tabs on your article deadlines, create a separate list. When creating a custom list, you can specify a link to an iCalendar file, and the calendar will appear as a separate list. The features don't stop here, though, because you can sync your ReminderFox data with either an FTP or WebDAV server. To enable this feature, specify the synchronization options in the Options dialog window under the Network tab.
Final Word
In this article, I've covered just a fraction of the simple yet useful Firefox extensions. If you are willing to spend some time digging through the official Firefox Add-on repository [11], chances are you will find dozens of other one-trick ponies that can make your daily computing more efficient and even pleasant.
comments powered by

Disqus
News
Both projects help organizations build their own containerized systems.

Mark Shuttleworth has resumed the position of CEO of Canonical.

Microsoft's open source code hosting platform CodePlex will come to an end after a more than 10-year stint.

Comes with Gnome 3.24

The bug was introduced back in 2009 and has been lurking around all this time.

The new release deprecates the sshd_config UsePrivilegeSeparation option.

Lives on as a community project

Five new systems join Dell XPS 13 Developer Edition that come with Ubuntu pre-installed.

The Skype Linux client now has almost the same capabilities that it enjoys on other platforms.

At CeBIT 2017, OpenStack Day will offer a wide range of lectures and discussions.
Tag Cloud