Issue #116 / Jul 2010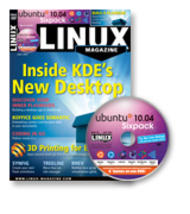 DVD: UBUNTU 10.04 SIXPACK
The hybrid nature of TreeLine means it offers more than your typical information manager. An outliner as well as a database, it allows you to sort and store all kinds of data with ease.
Community Notebook: Cache
Event season is upon us!
Penguicon 2010
A little bit sci-fi, a little bit open source, but a whole lot of fun for the geek crowd.
Community Notebook: Doghouse
Don't concentrate on the cost; emphasize the value.
Community Notebook
Building robots is an expensive hobby but too interesting to leave to a small group of elite researchers. Peekabot saves you the investment in hardware and simulates a brave new robot world. Also, we'll look at Gbrainy, a program to train your gray matter.
Visit Our Shop
Direct Download
Tag Cloud