Issue #119 / Oct 2010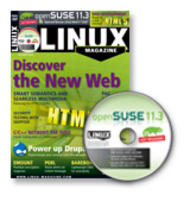 Etherpad and Mumble
Authors and editors can use EtherPad to edit a column online in real time. Then, anything they can't handle in writing, they can discuss in detail by launching Mumble.
12th Annual Linux Beer Hike
White chalk cliffs, a beautiful countryside, pretty villages and plenty of fine pubs gather along the South Downs Way in Sussex, England - an ideal location for the annual Linux Beer Hike.
Visit Our Shop
Direct Download
Tag Cloud