Issue #127 / Jun 2011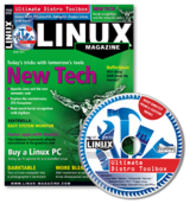 Cover Theme: New Tech
Download this issue as a PDF:
100 pages
Price $9.99

This month, we open the door to some promising new technologies, including facial recognition and the semantic web. We show you how to create, process and analyze semantic data with the Apache Jena platform. You'll learn how the innovative ZFS filesystem integrates RAID and volume management. And see how digiKam and libface bring facial recognition to your desktop.
Also in this issue:
Ultimate Distro Toolbox DVD: Linux Mint "Debian", Parted Magic, PCLinuxOS ­ "Gnome" , Zenwalk Core, Sabayon Linux "E17", PFire, and Puppy Linux!
Tech Tools: Tools for discriminating professionals
Buy a Linux PC: 10 options for pre-installed Linux
OpenCL: Use your graphics processor and OpenCL for parallel processing problems.
Blender: We show you how to build, constrain, and control a skeleton so you can pose and animate your Blender models.
Ask Klaus!
Perl: OpenOffice Label Merge
Sentinella: This vigilant sentry is just what you need for automatic monitoring of resources on your KDE desktop.
GPS Tracking and Geocoding: Open GPS Tracker, GPS Photo Correlator, Geotag, and Prune
Quassel: Chat with this flexible IRC client.
Hotot: Post text messages from your netbook with this microblogger.
Darktable: This photographer's tool helps you manipulate RAW files.
Command Line: The handy abcde command will rip CDs to your favorite format.
Doghouse: A new software business model
Kernel News: Keeping up with the kernel community
* Google Play Magazines available in AUS, CA, FR, DE, IT, UK, USA
Visit Our Shop
Direct Download
Buy this issue as a PDF
Digital Issue: Price $9.99

(incl. VAT)
News
Both projects help organizations build their own containerized systems.

Mark Shuttleworth has resumed the position of CEO of Canonical.

Microsoft's open source code hosting platform CodePlex will come to an end after a more than 10-year stint.

Comes with Gnome 3.24

The bug was introduced back in 2009 and has been lurking around all this time.

The new release deprecates the sshd_config UsePrivilegeSeparation option.

Lives on as a community project

Five new systems join Dell XPS 13 Developer Edition that come with Ubuntu pre-installed.

The Skype Linux client now has almost the same capabilities that it enjoys on other platforms.

At CeBIT 2017, OpenStack Day will offer a wide range of lectures and discussions.
Tag Cloud