Issue #128 / Jul 2011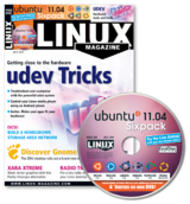 Cover Theme: Device Tricks
Download this issue as a PDF:
100 pages
Price $9.99

This month, learn how to customize your hardware configuration through the powerful udev system. We also help you optimize your code for the processor topology, and we show you how to use your smartphone as a remote.
Also in the July issue:
Letter from the Editor: Bring on the Trolls
Boxee Box: You don't need a box to set up Boxee Box, the open source personal video recorder. We'll show you how to put Boxee on a plain Linux system.
Tech News
DVD Inlay
Open Search Server: The OSS indexing suite integrates search capabilities into your websites.
iSCSI: Use iSCSI to reach network-aware SCSI storage devices.
Charly - crontab Hazards: Avert disaster by mastering cron script parameters.
Security Lessons - JTAG Hacking: Load custom firmware with a little JTAG hacking.
Ask Klaus! Your Linux questions are answered.
Perl - Banshee Database: Access Banshee metadata in an SQLite database.
sz/rz Over SSH: Send and receive files over SSH.
Workspace - Makagiga: A tool for every kind of content.
Xara Xtreme for Linux: Xara is an Inkscape alternative for vector graphics.
FVWM: This old-time window manager gives you control over your desktop.
Radio Tray: Systray web radio control.
Command Line - GPG: Keep secure with GNU Privacy Guard.
Review - GNOME 3: Discover the Gnome 3 desktop.
Doghouse: An open letter to a young man considering free software.
Kernel News: As the Kernel Turns
Projects on the Move: Vinca, Orca, and Gnome lead the way in Linux accessibility.
* Google Play Magazines available in AUS, CA, FR, DE, IT, UK, USA
Visit Our Shop
Direct Download
Buy this issue as a PDF
Digital Issue: Price $9.99

(incl. VAT)