Issue #139 / Jun 2012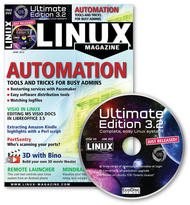 DVD: Ultimate Edition 3.2
Do you have a sentry to keep an eye on your servers?
PortSentry monitors your ports and lets you know when they've been scanned.
Controlling PCs with an Android smartphone
Did you leave your system running? Did you forget to start a critical backup? Control your Linux computer from anywhere with an Android phone.
New LibreOffice import filters
PowerPoint shapes. We investigate how the two office modules work together.
Klaus Knopper answers your Linux questions
Klaus Knopper is the creator of Knoppix and co-founder of LinuxTag expo. He currently works as a teacher, programmer, and consultant. If you have a configuration problem, or if you just want to learn more about how Linux works, send your questions to: klaus@linux-magazine.com
Tune in to your system with these popular diagnostic tools
To check on the health of a Linux system, administrators can turn to vmstat, iostat, netstat, and ifstat. Or, you can just use the versatile dstat, which combines the features of several tools in a single package.
Virtualization with LXC
LXC is fully integrated into the kernel, providing a fast and easy approach to virtualizing individual programs and whole systems on Linux without the need for patches and additional modules.
The sys admin's daily grind – Pktstat
When it comes to daily tasks such as monitoring network traffic, administrators should choose a tool that is sufficiently functional and not too complicated.
Searching in large logfiles with Glogg
Programmers and Linux administrators appreciate the benefits of event logs. The Glogg tool is the perfect choice for searching even large logfiles.
Deploying with confidence
Combining Puppet, Foreman, Pulp, Candlepin, and Katello lets you deploy software and servers automatically and securely.
Extract the highlights stored on an Amazon Kindle from a Linux machine
On the Amazon Kindle eBook reader, you can save personal clippings, or "highlights," in a file; later, you can connect the Kindle to a USB port on a Linux machine and grab the data with a Perl script that stores it in a database.
Visit Our Shop
Direct Download
Tag Cloud