Issue #141 / Aug 2012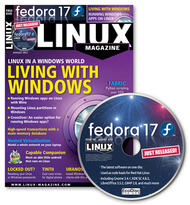 DVD: Fedora 17
LINUXUSER: Byobu
Byobu, a session manager for the command line
The Byobu session manager extends the shell, adding a range of useful functions, such as splitting the screen, running programs in the background, or organizing programs in tabs. In particular, administrators who rely on SSH will appreciate Byobu.
Manage files on your Apache web server
Access and manage files and documents on your file server or a remote server from the comfort of your browser or Android device.
Enhancing photos selectively with Tintii
Tintii, a modest image-processing program, transforms color images into black-and-white pictures then enhances specific areas with eye-catching colorizing effects.
Open Education
The strengths of open source in the educational setting.
The Kernel Development Process
A new aggregate queue length algorithm for network bottlenecks
The persistent and growing problem of bufferbloat is getting serious relief from a new active queue management tool known as a Controlled Delay – a tool that, thanks to heroic efforts, is now ready for Linux.
Visit Our Shop
Direct Download
Tag Cloud