Issue #146 / Jan 2013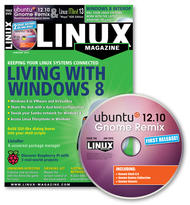 DVD: Ubuntu 12.10 Gnome Remix & Linux Mint 13 "Maya" KDE Edition
Cross-platform software installation
A single uniform software installation tool for all distributions is still just a dream, but thanks to Listaller, this goal has come a little bit closer.
Not just for source code – Versioning with Git
When several people collaborate on source code or documents, things can get messy fast. Git provides a quick cure: The distributed versioning system reliably ensures the integrity and consistency of data with minimal effort.
Exploring the Raspberry Pi through real-world projects
The single-circuit-board Raspberry Pi computer, only as big as a credit card, makes it easy to gain experience with embedded Linux systems. We'll show you some hands-on examples of how to use the Raspberry Pi in an everyday environment.
Issue tracking and collaboration with WebIssues
The WebIssues tool offers more than just bug tracking; it can help you manage complex multiuser projects as well.
Assigning privileges with sudo and PolicyKit
If you give users who are usually supervised more scope to help themselves, they will need additional privileges. The sudo tool and the PolicyKit authorization service can control who does what on Linux.
Klaus Knopper answers your Linux questions
Klaus Knopper is the creator of Knoppix and co-founder of LinuxTag expo. He currently works as a teacher, programmer, and consultant. If you have a configuration problem, or if you just want to learn more about how Linux works, send your questions to: klaus@linux-magazine.com
Configuring and using auditd
The auditd tool can provide system logging capabilities to satisfy even the most paranoid users.
Scanning and storing books on Google Drive
Armed with a Chinese guillotine and a scanner with an automatic document feeder, Mike Schilli gives his books some special treatment, courtesy of Google Drive, which offers 5GB of storage space – room enough to start an online PDF collection.
Automating tasks with SSH, Zenity, Yad, KDialog, PuTTY, WinSCP, and Rex Secure Agent
Starting a script on a Linux server with just a few mouse clicks sounds more complicated than it really is. If you want to create attractive and interactive dialogs for your desktop users, all you need is a small utility called SSH and a little Bash know-how.
The sys admin's daily grind – GIF animations
Beyond flashing web emoticons, animated gif images can present trends that catch your eye in system monitoring.
Visit Our Shop
Direct Download
Tag Cloud