The Raspberry Pi as a media center
Smart Raspberry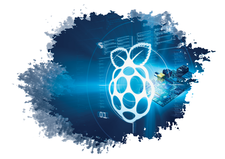 Tired of that big clunky media center unit taking up shelf space in your living room? We'll show you how to put together a tiny multimedia system with the versatile and ever-popular Raspberry Pi.
Only 10 years ago, a large proportion of the population was satisfied with the possibilities of video players and analog satellite receivers. Now this primitive world of the past seems so far away. In our time, virtually all audio and video recordings are produced and distributed digitally. A single user interface can bundle several reception channels (e.g., digital video streams and Internet media libraries, as well as files residing on the local NAS devices). A variety of devices, including laptops, desktop PCs, and smartphones, interact with the media center in the living room through a local WiFi network. In addition to managing your movies, a smart mobile device also offers plugins for music files or a personal photo collection.
Do-it-yourself home theater PCs (HTPCs) were already on the rise at the start of the new millennium. Initially, these early HTPC systems were still desktop computers, with fancy new cases to make them more living-room-friendly. The energy costs and the purchase price of the hardware were correspondingly high. But the Community quickly had some new ideas. The XBMC media center software was originally developed for XBox consoles. Over the years, XBMC has been ported to a variety of platforms and operating systems. Hardware, software, and Internet bandwidth have evolved considerably over the last decade. Now, as in the past, you can spend thousands of dollars on a state-of-the-art system to play video streams and multimedia files, but if you are really looking to save money and space, one new platform outshines all others: XBMC with Raspberry Pi.
Keep in mind that a US$ 35 embedded PC can't hope to achieve the same performance as a US$ 600 DIY HTPC or even a US$ 300 netbook system, but for many applications, this extra power isn't necessary. On a Raspberry Pi system, a video can easily take one to two seconds to launch after you select it, but it will then play smoothly with HD quality. In many multimedia applications, the GPU compensates for the shortcomings of the 700MHz CPU. The footprint, which is about the size of a packet of cigarettes, is pleasingly small, and the power consumption, which is down in low single-digit wattage figures, is gratifying. However, some applications offer no alternative to more expensive solutions: If you want to plug in an external Blu-ray drive, you will only be able to play discs without copy protection, and Raspberry Pi is a bit underqualified to support live TV applications in which both the back end and the front end run on the same device.
[...]
Use Express-Checkout link below to read the full article (PDF).
Read full article as PDF:
comments powered by

Disqus
Visit Our Shop
Direct Download
Read full article as PDF:
Tag Cloud