Encrypting your Linux system with LUKS and ZFS
Troubleshooting and Dealing with Updates
In a complex installation like this, mistakes can happen. Repairing an encrypted system via Live media is somewhat more complicated than with a conventional Linux. The first step is to boot the from the Gentoo Live DVD or some other 64-bit Live medium that includes ZFS, then you can use cryptsetup to access the LUKS device:
cryptsetup luksOpen /dev/sda2 cryptroot
Opening the ZFS pool is known in ZFS speak as "importing," and I will do this with the -fN options, which ignore the host ID and prevent the automount, respectively:
zpool import -fN rpool
The following commands mount the system in /mnt/gentoo (as during the installation) and mount the remaining ZFS filesystems below this hierarchy:
zfs set mountpoint=/mnt/gentoo rpool
zfs mount rpool/ROOT
zfs mount -a
From here, you can go through the familiar chroot steps and then fix the system. Before making a fresh attempt to boot, be sure to adjust the mountpoints by using the zfs set mountpoint=/ rpool command.
Because of what are, in part, irregular SPL and ZFS kernel patches, future updates or upgrades require some attention. When a new kernel version arrives, just patch and compile on the active system. As with any other distribution, it is advisable to keep a working kernel on the system until the new one has proven its reliability.
Performance and Conclusions
Users of TrueCrypt and the like know that end-to-end encryption can affect performance if you need to read and write many small files. Thus, it makes sense to look at the data rates of the test system for this article. Like previous performance tests in Linux Magazine [9], the benchmark call here is:
iozone -r 4k -s 4g -i0 -i1
The total size of 4GB is adapted to the size of the test environment on the virtual machine. Figure 2 shows a direct comparison between ZoL and ZoL+LUKS.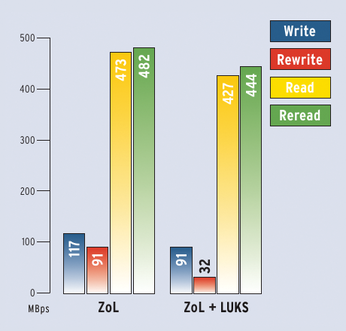 Do not overinterpret the performance advantages and disadvantages measured in the different disciplines: First, measurements are prone to errors on virtual machines; second, many modern laptops use high-performance SSDs; third, desktop operations involve significantly more read actions than writes.
All told, the experience gained from this article indicates that any computer threatened by loss can be well encrypted with a little effort. This very modern setup works transparently for the user and the admin. Whether or not you want to invest in this amount of work should be measured against the risk of having your data fall into the hands of stranger.
comments powered by

Disqus
Visit Our Shop
Direct Download
Read full article as PDF:
News
Both projects help organizations build their own containerized systems.

Mark Shuttleworth has resumed the position of CEO of Canonical.

Microsoft's open source code hosting platform CodePlex will come to an end after a more than 10-year stint.

Comes with Gnome 3.24

The bug was introduced back in 2009 and has been lurking around all this time.

The new release deprecates the sshd_config UsePrivilegeSeparation option.

Lives on as a community project

Five new systems join Dell XPS 13 Developer Edition that come with Ubuntu pre-installed.

The Skype Linux client now has almost the same capabilities that it enjoys on other platforms.

At CeBIT 2017, OpenStack Day will offer a wide range of lectures and discussions.
Tag Cloud