Speeding up Linux VMs with Hyper-V's Linux Integration Services
Through the Window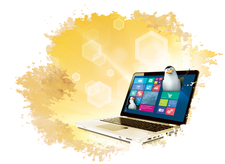 Microsoft provides a collection of tools for faster and more efficient Linux virtualization in the Hyper-V environment.
Back in 2008, when Microsoft realized it was falling behind on virtualization and cloud services, the company rolled out the Hyper-V virtualization environment. Hyper-V originally only supported Windows client systems, but Redmond soon realized they were missing out on a significant segment of the IT market that insisted on Linux support. Basic Linux guest support followed in 2009 (see the box titled "Supported Linux Operating Systems"). However, Microsoft knew it wasn't enough just to provide basic functionality for a Linux virtual machine. To remain competitive, the company realized it would need to invest as much energy as its competitors in dialing up performance for Linux virtual systems. Linux Integration Services (LIS) is Microsoft's answer to the need for better, faster, and more integrated virtual Linux performance on a Hyper-V Server. LIS is similar to the VMware tools provided by VMware for virtual machines running on ESX Server.
As you will learn in this article, although you don't have to have LIS to run a virtual Linux system on Hyper-V, the tools available through LIS provide better, more efficient, and more comprehensive virtualization, as well as better integration with Hyper-V management structures for easier monitoring, management, and deployment of Linux virtual systems.
LIS works through a system of drivers running on both the host and guest. In other words, LIS is not just a tool that runs on the Windows host. You must install LIS on the Linux virtual machine, unless it is already present. (As you will learn in this article, several Linux distributions come with LIS support pre-installed; in that case, you only need to activate it.)
[...]
Read full article as PDF:
comments powered by

Disqus
Visit Our Shop
Direct Download
Read full article as PDF:
Tag Cloud