Creating hard disk images with Guymager
Cloning
If you want to clone a device, Guymager offers you a slightly different procedure: Just as when creating an image, you right-click in the main window on the device you want to clone and then choose Clone device. Now, the software opens a window in which you can see the mass storage devices on the computer system in the top pane.
The storage medium selected as the source device is already marked as the Device to be cloned in the Remark column and is completely grayed out. This eliminates any confusion between the source and target. All other mass storage devices are labeled Ok for cloning, which means that they are eligible as target media. With a mouse click, you then select a suitable mass storage device, and the software highlights it in blue (Figure 3).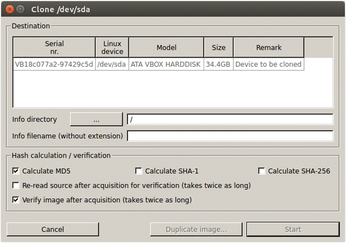 If one of the potential targets is too small for the amount of data in the source, the software notifies you and highlights the too-small medium in gray. This device is also no longer available as a target for cloning.
Next, type a path for the Info directory and the file name for the associated file. In the Hash calculation/verification section, select the algorithm to use for checking the integrity of the duplicated disk, just as you did when you created the image. If necessary, enable the checkboxes to verify the source and target. After completing the setup, you can press the button at the bottom right to start creating the image.
Guymager now creates a clone of the original. If the target is a disk with larger capacity than the sources, then the software creates a partition of the same size and with the same filesystem as the source partitions on the device. This means you can access the clone just as you would the original.
Reconstruction
On Linux, you have many tools to help you read the preferred EWF format for creating images. For example, the TestDisk [4] program lets you reconstruct the image. You can easily access a dd-based image on Linux by creating a loop device and then using the mount command to mount it on your system.
Conclusions
Guymager considerably facilitates the process of creating verified images and cloned disks. It helps you back up important data – especially on removable disks – in a short time and as an identical copy. The software is stable and fast, and thanks to its professional functions, it also suitable for use in forensics.
The simple interface still leaves some scope for improvements. It would make more sense for the application to offer a list of buttons for actions to match your selection in the list. The fact that they are hiding in the context menu is not immediately apparent.
comments powered by

Disqus
Visit Our Shop
Direct Download
Read full article as PDF: