Heading Down the Home Straight: KDE 4.0 Beta 3 Released
Oct 18, 2007
The third beta release sees the KDE team freeze the development platform and includes further code clean-up work. The developers have concentrated on libraries since the second beta, but there are some more visible changes, too.
KDE beta 3 has the latest Koffice 2.0 , which has now reached alpha four status. Enhancements mainly relate to ODF support and formula functions; templates and animation are now available for slideshows. The office suite is regarded as a preview and the KDE developer team warns that it could crash at any time.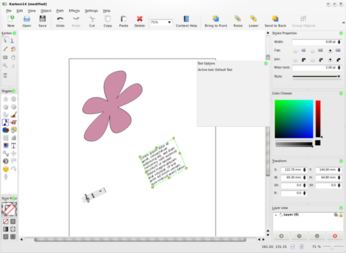 The Karbon vector drawing program in the future Koffice version 2.
According to Canadian KDE developer Aaron Seigo the work on the new Plasma interface is fairly advanced, and the Beta 3 now includes a working collection of basic components such as taskbars, menus, panels and wallpapers. The applet browser is new; work is still in progress on integrating the KGet download manager with Plasma.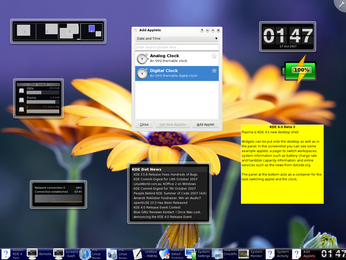 The Plasma desktop and its new functions looking impressive.
The team responsible for PIM applications has improved Kalarm and ported the application to KDE 4.0, along with Kpilot. Korganizer can now convert time zones to the current locale, to display an appointment in, say, Moscow at the local time. Apart from this the PIM team has mainly been working on its new, cross-desktop Akonadi architecture which will be ready in time for KDE 4.1.
KDE developers have also put much effort into the Kvoctrain vocabulary trainer. Now dubbed Parley, the trainer features more direct controls and a new interface.
The Marble mapping gadget, which is reminiscent of Google Earth from a look point of view, displays a map of the world and pins Wikipedia articles to cities on mouse over. The physics simulator Step gives users the ability to store formulas as notes.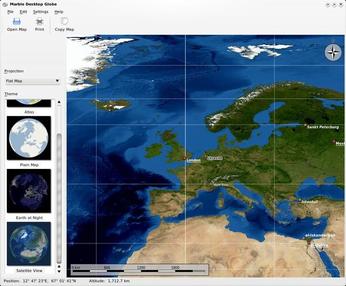 Marble now uses Kpart for embedding in other applications.
Other new features: Gwenview can scale images, Konqueror has been reworked and Kwin is more stable. Website developers will be happy to hear that Klinkstatus, a link checking tool, has made its way into the KDE 4.0 Beta 3.
The KDE announcement has more details. The download link still refers to the third KDE 4.0 beta as version 3.94. The source code is also available via the developer howto.
comments powered by

Disqus
Issue 198/2017
Buy this issue as a PDF
Digital Issue: Price $9.99

(incl. VAT)
News
Both projects help organizations build their own containerized systems.

Mark Shuttleworth has resumed the position of CEO of Canonical.

Microsoft's open source code hosting platform CodePlex will come to an end after a more than 10-year stint.

Comes with Gnome 3.24

The bug was introduced back in 2009 and has been lurking around all this time.

The new release deprecates the sshd_config UsePrivilegeSeparation option.

Lives on as a community project

Five new systems join Dell XPS 13 Developer Edition that come with Ubuntu pre-installed.

The Skype Linux client now has almost the same capabilities that it enjoys on other platforms.

At CeBIT 2017, OpenStack Day will offer a wide range of lectures and discussions.
Tag Cloud