Linutop 3: Fanless Mini-PC with Linux
Sep 09, 2009
The French company Linutop has released its like-named mini-PC in version 3. The energy-saving Linux machine is perfect for office workplaces, Internet kiosks and advertising displays, for example.
While other mini-desktop manufacturers rely mainly on Intel's Atom CPUs, the Linutop 3 runs on a VIA C7 processor at a 1-GHz rate. The fanless device measures slightly more than 9x9x2 inches and weighs just over 4 pounds. It has 2 GBytes Flash memory and 1 GByte RAM that can be increased to 2 GBytes, and uses a maximum 20 Watts power. The suggested retail price is about $492 at the current rate of exchange.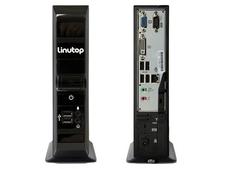 The Linutop 3 has six USB ports, a serial interface and audio in and out. Inside is room for a PCIe and two SATAs. The built-in Gigabit Ethernet card supports booting from the net via PXE. The graphics card provides resolutions of up to 1920 x 1080 pixels and has VGA and DVI output.
The device uses its own Xubuntu version Linutop OS that uses the Xfce desktop environment. Firefox, Pidgin, OpenOffice, a PDF viewer and the VLC media player with codecs for Divx, MP3, MPEG-1/2/4 and other formats are pre-installed. An onscreen keyboard is also available. The software package comes in English, German, French, Spanish or Italian. Linutop provides a one-year warranty extensible to three years. Linutop 3 is available through their online shop
Comments
nice!

I've got myself one of these. The reason I got it is not for the hardware, but it's the way they tweeked the OS to make it really low maintenance and secure. http://www.linutop.com/software.en.html
comments powered by

Disqus

Issue 37: Discover LibreOffice – 2019 Edition/Special Editions
Buy this issue as a PDF
Digital Issue: Price $15.99

(incl. VAT)
News
Anyone looking to finally get their hands on an early release of the PinePhone can do so as of November 15.

Microsoft is bringing it's new Chromium-based Edge browser to Linux.

OIN has deployed its legal team to find prior art.

The latest version of Fedora comes with new packages and libraries.

openSUSE enables developers to build their own WSL distributions.

A vulnerability in the sudo package gives sudo users more powers than they deserve.

The Art of PostgreSQL by Dimitri Fontaine is now available.

New distro will provide an upstream test bed for RHEL.

The feature will let developers restrict root access to the kernel.