Nmap 4.75 recognizes iPhones and visualizes networks
Sep 10, 2008
"If we are going to call Nmap the 'Network Mapper', it should at least be able to draw you a map of the network! " writes developer Fyodor in announcing the newest version 4.75 of the Nmap security scanner.
Developers have integrated a network topology visualization tool in the Nmap's Zenmap graphical user interface by using RadialNet. And the network scanner now also recognizes iPhones and Wii consoles.
The topology map might, for instance, visualize the number of open ports per scanned host: a red cross symbol means that more than six open ports were detected; a white cross means that Nmap was unable to reach the host. A network administrator can thereby get a quick overview of network hosts having large numbers of open ports. RadialNet shows the distances to the scanned host as grey lines: every line represents a network hop. Routers, switches and WiFi access points appear on the map as colored squares.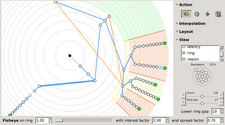 The Nmap services can also record which open ports are offered most often to hosts in the network. Over the summer, Nmap was able to supply this information to larger organizations by scanning a few million IP addresses.
Based on these results, Nmap regularly scans only a thousand TCP and UDP ports, compared with the previous 1,715 TCP ports and 1,488 UDP ports. This step should accelerate the Nmap scanning in that the thousand ports remain on a hit list based on the gathered data. Even a scan for the "-F" option captures only the one hundred most crucial ports instead of the previous thousand or more.
The Nmap developers have brought their database of discovered operating systems up to date for a period covering March through July of this year. Nmap recognizes more than 1,500 signatures and can identify Apple iPhones and Nintendo Wii consoles. The network mapper also cooperates with Windows 2000.
The list of enhancements is considerably long and includes numerous bug fixes and changes to the Nmap Zenmap user interface. The Nmap 4.75 Changelog provides a complete overview and the software can be downloaded from their Download page.
Comments
Sweet!

Great THANK YOU, fyodor - keep ours eyes open!
comments powered by

Disqus

Issue 199/2017
Buy this issue as a PDF
Digital Issue: Price $9.99

(incl. VAT)
News
Both projects help organizations build their own containerized systems.

Mark Shuttleworth has resumed the position of CEO of Canonical.

Microsoft's open source code hosting platform CodePlex will come to an end after a more than 10-year stint.

Comes with Gnome 3.24

The bug was introduced back in 2009 and has been lurking around all this time.

The new release deprecates the sshd_config UsePrivilegeSeparation option.

Lives on as a community project

Five new systems join Dell XPS 13 Developer Edition that come with Ubuntu pre-installed.

The Skype Linux client now has almost the same capabilities that it enjoys on other platforms.

At CeBIT 2017, OpenStack Day will offer a wide range of lectures and discussions.
Tag Cloud