Open Source Forum at CeBIT - Call for Papers
Nov 28, 2012
With its move into Hall 6, CeBIT is now allocating even more space to the Open Source Area in 2013. The Open Source Forum, together with the Open Source Park making up this themed area on CeBIT, will benefit from the move as well.
CeBIT 2013 takes place in Hannover, Germany, from March 5 to 9, 2013. Organized by the Medialinx AG (formerly Linux New Media AG), the Open Source Forum will again feature an extensive program, illuminating all facets of Linux and open source. The success story of the Open Source Park shows that open source software has long been an important segment in the IT industry. Over 90 percent of last year's exhibitors have already confirmed their participation in 2013.
Open Source practitioners wanted!
The call for papers applies to individuals and organizations as well as open source developers. Sought after are practicioners who can report on their experience deploying free software in the corporate sector and in organizations. The focus should be on innovative products, new projects and open source/Linux specific technologies. Of great interest are also presentations on the topic of open source in mobile IT and talks that build on the CeBIT 2013 keynote theme "Shareconomy".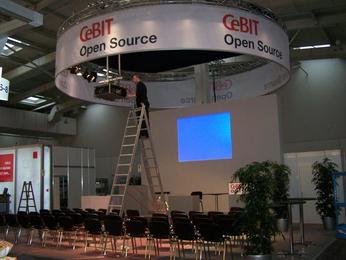 If you'd like to apply with your presentation for the CeBIT Open Source Forum, please fill out the application form or send us a quick description of your proposal, your name and a telephone number for potential questions to callforpapers@medialinx-gruppe.de. Presentations should be approximately 45 minutes in length (including a short Q&A session) and either be in English or German. An international jury of open source experts will choose the successful applications. The Call for Papers ends on Wed, Jan 9, 2013.
The entire conference program will be broadcast through a live stream on Linux Magazine Online and be available for free through the Linux Magazine streaming archive page.
Platinum sponsor of the CeBIT Open Source Forum 2013 is the Heinlein Support GmbH, a leading e-mail and Linux server specialist in Germany.
comments powered by

Disqus

Issue 37: Discover LibreOffice – 2019 Edition/Special Editions
Buy this issue as a PDF
Digital Issue: Price $15.99

(incl. VAT)
News
Anyone looking to finally get their hands on an early release of the PinePhone can do so as of November 15.

Microsoft is bringing it's new Chromium-based Edge browser to Linux.

OIN has deployed its legal team to find prior art.

The latest version of Fedora comes with new packages and libraries.

openSUSE enables developers to build their own WSL distributions.

A vulnerability in the sudo package gives sudo users more powers than they deserve.

The Art of PostgreSQL by Dimitri Fontaine is now available.

New distro will provide an upstream test bed for RHEL.

The feature will let developers restrict root access to the kernel.