Rekonq 0.4.0 with Ad-Blocker and Plugin Controller
Mar 18, 2010
Based on the Webkit engine, the KDE browser Rekonq concentrates on providing the best possible web experience. Version 0.4.0 comes with a variety of new features.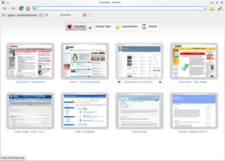 Andrea Diamanti has released a new version of his Webkit engine, Rekonq. New features include an ad-blocker, password controller and support for kwallet, FTP and file handling and an option that enables Flash and other media plugins to be loaded when needed.
Default browser for KDE?
Most Rekonq fans would like to see the slimline browser as standard in KDE 4.5 or 4.6. For this to happen, the former one-man project has to improve its integration into the KDE community. This is why Andrea Diamanti will soon be speaking with the KDE Project to get his codebase transferred from the Playground repository to KDE Extragear. The move also complies with a condition laid down by the openSUSE project.
Many KDE developers appear doubtful if Rekonq could ever serve as a true replacement for Konqueror. The Webkit browser has no KIO slave support and besides, no one inside KDE really wants to maintain two browsers.
Comments
Rekonq

Sometimes pretty cool things happen and yet almost nobody knows about them. One of the coolest things I came to learn recently is the development of web browser rekonq. Like Google's Chrome and Apple's Safari, rekonq is based on WebKit, which is itself a derivative of KHTML, the engine behind Konqueror. I've always admired WebKit-based browsers for the speed at which they render HTML. To my disappointment, rekonq wasn't quite able to live up to the performance of Konqueror or even Firefox 3.5 in the speed test at scragz.com, but it was still certainly acceptable. This site http://www.florist-flowers-roses-delivery.com/ was developed with Rekonq users in mind.

Konquer's better anyway

Rekonq is a decent browser but there's no point in developing two browsers. As of now, Konqueror does a better job, albeit slower, with page compatibility and other things.

It would be nice if Rekonq got more developers so that it could be usable as a primary browser, without recourse to Firefox, Chrome or Opera for "problematic" sites. The same could be said for Konqueror.
comments powered by

Disqus

Issue 199/2017
Buy this issue as a PDF
Digital Issue: Price $9.99

(incl. VAT)
News
Both projects help organizations build their own containerized systems.

Mark Shuttleworth has resumed the position of CEO of Canonical.

Microsoft's open source code hosting platform CodePlex will come to an end after a more than 10-year stint.

Comes with Gnome 3.24

The bug was introduced back in 2009 and has been lurking around all this time.

The new release deprecates the sshd_config UsePrivilegeSeparation option.

Lives on as a community project

Five new systems join Dell XPS 13 Developer Edition that come with Ubuntu pre-installed.

The Skype Linux client now has almost the same capabilities that it enjoys on other platforms.

At CeBIT 2017, OpenStack Day will offer a wide range of lectures and discussions.
Tag Cloud