Richard Stallman, Farmers and the German CSU Party Unite Against Patents
Apr 16, 2009
Members of the Foundation for Free Information Infrastructure (FFII), the Piratenpartei (Pirate Party), Greenpeace, the Misereor Catholic organization, and farmers' unions against the European Patent Office (EPO) recently assembled at a rally in Munich, Germany. Demonstrators included Richard Stallman, who added his own testimonial to those united against the EPO.
Filed by U.S. agricultural firm Monsanto, a bio patent for a swine breeding process provoked the rally. A letter with more 5,000 signatures ended up at the patent office (EPO) in Munich in form of a protest march. Representatives from farmers' unions, Greenpeace, the Misereor development corporation of German Catholic bishops, other religious groups, and Richard Stallman attended the rally in the Marienplatz. Stallman spoke out on behalf of the German FFII about the shared interests software developers have with pig farmers: "Patents on plants and animals attack farmers as they do their work. Software patents attack developers as they do their work."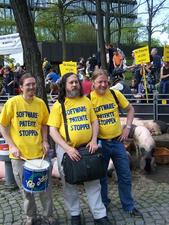 The pioneer of free software and founder of the FSF considered everyone to be affected by software patents: "Only a fraction of the businesses are farmers, but certainly most companies use computers, and they all are in danger." To clarify, he used the analogy of music composition, where composers write notes and implement pre-existing ideas with original ones in their works, much as programmers do with code. Stallman: "Even a Beethoven can't reinvent music from zero and make something people will listen to. Nobody is such a genius that he could reinvent computing from zero." Accompanied by applause, he characterized the EPO as a "corrupt, malicious organization" and implored everyone not to shy away from eliminating it altogether. He exhorted Europeans, "Every institution gets the respect it deserves."
Prior to Stallman's speech the Bavarian environment minister Markus Söder made a surprise appearance at the microphone. A member of the CSU party, he was greeted with jeers, but his avowals seemed to fit the occasion. He praised the recent decision by agriculture minister Ilse Aigner (of his own party) to ban cultivation of genetically modified (GM) corn and denounced the Monsanto patent: "Yes to life, no to patents" was his rhetoric. Later speakers, such as European Parliament member Friedrich-Wilhelm Graefe zu Baringdorf, got to the crux of the matter: "Keep in mind, European elections are just around the corner." He and speakers from the other organizations emphasized persistence when words aren't immediately followed by actions.
comments powered by

Disqus

Issue 199/2017
Buy this issue as a PDF
Digital Issue: Price $9.99

(incl. VAT)
News
Both projects help organizations build their own containerized systems.

Mark Shuttleworth has resumed the position of CEO of Canonical.

Microsoft's open source code hosting platform CodePlex will come to an end after a more than 10-year stint.

Comes with Gnome 3.24

The bug was introduced back in 2009 and has been lurking around all this time.

The new release deprecates the sshd_config UsePrivilegeSeparation option.

Lives on as a community project

Five new systems join Dell XPS 13 Developer Edition that come with Ubuntu pre-installed.

The Skype Linux client now has almost the same capabilities that it enjoys on other platforms.

At CeBIT 2017, OpenStack Day will offer a wide range of lectures and discussions.
Tag Cloud