Issue #14: Raspberry Pi Handbook / Jul 2013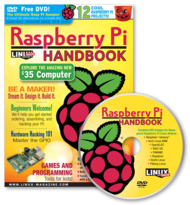 Cover Theme: Raspberry Pi Handbook
DVD: Raspberry Pi Distro Sampler
Download this issue as a PDF:
100 pages
Price $15.99

The Raspberry Pi Handbook is an easy and accessible, hands-on reference for the amazing $35 Raspberry Pi computer.
You'll start with a look at how to order, assemble, and outfit your Raspberry Pi system. We'll show you some basic skills for finding your way around in Raspberry Pi's Raspbian OS, then you'll explore the secrets of Raspberry Pi configuration with a collection of cool projects that put your Pi to work as a media center, photo server, game server, web server, hardware controller, and much more.
Additional chapters round out this comprehensive introduction to the Raspberry Pi experience:
Get Started
- Assembling and Starting Your Raspberry Pi
- Interview with Eben Upton
Skills
- Understanding Linux
- Raspbian LXDE
- Pi Software
- Scratch Programming
Server Tricks
- Raspberry Pi Media Center
- Pi File and Print Servers
- A Pi Web Server
- Photo Server
- Game Server
- Remote Access
Hardware Hacks
- Interfacing for Beginners
- Steady Hands
- Temperature Sensor
- Halloween Pumpkin
- Tapping Data with the Rasp Pi
Advanced Topics
- Raspberry Pi with Arduino
- Programming the GPIO
* Google Play Magazines available in AUS, CA, FR, DE, IT, UK, USA
Visit Our Shop
Direct Download
Buy this issue as a PDF
Digital Issue: Price $15.99

(incl. VAT)
Tag Cloud