Disk partitioning in Fedora
Drawing the Line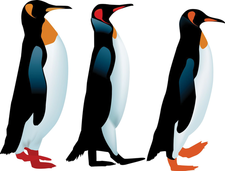 Partitioning prepares your disk to receive an operating system. We help you navigate this unfamiliar landscape safely.
Disk partitioning is the division and formatting of a storage device. Partitioning is done early in the installation process to prepare a device for installing the operating system. In Fedora, as in other Linux distributions, you have the option of letting the installer choose for you, of manually partitioning to customize your system, or of making room for Fedora on a Windows system. You also have the options of encrypting the partitions and deciding where to place the bootloader.
Partitioning might sound like a risky business if you have never tried it, but the main time you are likely to have problems is when the power to your machine is interrupted. However, you can minimize that potential problem by never installing while on battery power and by making sure that all cords are placed where nobody can trip over them. To be absolutely sure, always back up any information already on the machine before you start installation.
With these precautions, the next greatest danger is accidentally deleting the wrong partition, and even that danger can be minimized if you give each partition a label and note which kind of partition belongs to which operating system. An NTFS partition, for example, is likely to be for Windows, and an XFS partition for Linux.
[...]
Use Express-Checkout link below to read the full article (PDF).
comments powered by

Disqus
Visit Our Shop
Direct Download
Read full article as PDF:
Tag Cloud