Getting started with your new Fedora system
Exploring Fedora

Fedora might look foreign at first, but after a few minutes of finding your way around, you can feel right at home. To help jump start your journey into Fedora, let's take the grand tour.
The first time I installed Linux on a friend's computer, she said, "It looks like an expensive system." She's right. That such a polished, feature-packed operating system is available for free is hard to believe. So get comfortable and admire your new scenery as you explore your fresh surroundings. And now for the grand tour.
Settings
When you first log into your Fedora system, you will be greeted with a clean blue desktop and a simple black navigation bar at the top of the screen. Right-click on the blue background to change the background or to open the Settings menu.
Open the Settings menu to change your Personal and System settings and to access your Hardware settings (Figure 1). The Settings menu can also be accessed by typing "settings" into the search bar.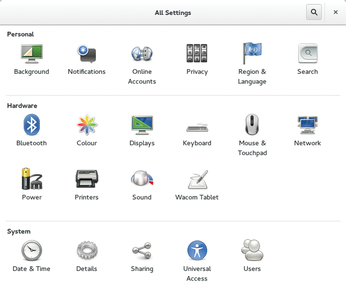 Personal: Under Personal in the settings, select Background, which then gives you two options. Clicking the Background option opens a new menu with wallpapers, pictures, and colors. Fedora also includes a nice selection of wallpapers to help you personalize your system. If you have personal photos on your computer and you want to use one as wallpaper, click the Pictures tab and select your image. (Right-clicking images also opens a window with a Set as Wallpaper option.) Colours lets you set a solid color as background.
Notifications: Next under the settings is Notifications, which is where you set preferences to be notified of alerts, such as instant messages and new email. Or, if you prefer to see a notification when a message arrives but you don't want a sound alert, for example, you can change the settings.
Online Accounts: Adding online accounts to your system allows applications to access those accounts (Figure 2). For example, by connecting to your Facebook account, you can access Facebook contacts and chat with your friends from Fedora's chat application, called Empathy.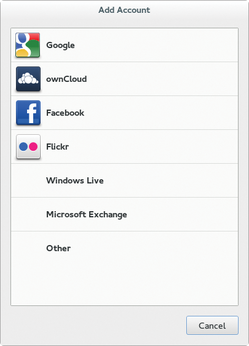 Privacy: Fedora has a reputation for being a secure system that helps protect user privacy. The privacy settings for Screen Lock and Usage & History are on by default, but Purge Wastebasket & Temporary Files is off. With a click of the mouse, you can change those options.
Regions and Language: As the name implies, switching languages or keyboard layouts is handled with the settings in the Regions and Language option.
Search: By default, searches include user contacts, documents, files, passwords, and keys. The gear button in the bottom right corner also lets users change search settings for the home folder, downloads, music, pictures, and videos.
Hardware
Under the Hardware setting, you can add connection to bluetooth-enabled devices, adjust screen colors and displays, change mouse and network settings, control power use, and manage printers and sound. The Keyboard option is handy because it provides shortcuts and it allows users to edit and add shortcuts. For example, to record a short screencast, the shortcut is Shift+Ctrl+Alt+R. By default, Fedora also includes an option to manage Wacom Tablet [1] devices in the hardware settings.
Even if you don't need to add hardware or adjust any settings yet, getting familiar with all of the hardware options could save you time later, especially when you get new gadgets or need to troubleshoot your system.
System
System settings let you manage the system's date and time. If you travel with a Fedora laptop, for example, turning on the Automatic Time Zone option will help keep you on schedule because your computer will automatically change the time after connecting to the Internet.
If you can't remember every last detail about your computer, select the Details option, which displays an overview of your operating system, device name, memory, processor, type of operating system (e.g., 64-bit), graphics card, desktop (Gnome version 3.10.2), and disk memory. The Default Applications menu lets you choose a different default browser, mail application, calendar, music or video players, and photo managers.
Removable Media controls how media is handled. For example, if you want CDs to play automatically in Rhythmbox instead of asking you what to do each time you insert one, adjust that setting.
Back to the System settings, select the Sharing button to turn on the sharing option and share your screen and music with other users or to log into your system remotely.
Universal Access provides options to adjust the system for users who are visually or hearing impaired, or need improved ability to type or point and click. For example, selecting Large Text increases the font size, and turning Screen Reader on allows users to click around the system to hear audio descriptions of mouse moves.
The final settings option, Users, is especially useful on shared systems. For example, you can create and control accounts for each family member. And as I mentioned, Fedora is security-conscious, so the system will prompt you or your user to create a better, more secure password during set-up.
comments powered by

Disqus
Visit Our Shop
Direct Download
Read full article as PDF:
Tag Cloud