Get online with your brand-new Linux installation
Connected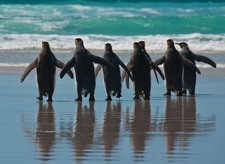 What good is a laptop or desktop that's not connected to the Internet? Sure, you could do a few things with it, but these days a machine that's not online might as well be a paperweight.
Once you have Fedora installed, the very next thing that you probably want to do is get online. Odds are, much of this process "just works" right out of the box. If so, great! But, in case things are slightly amiss or you want to make some tweaks, I'll walk through the utilities and tools to make it happen.
Are You Connected?
The utility that works behind the scenes to handle network configuration and operation is NetworkManager. Gnome and LXDE have GUI utilities that work with NetworkManager. In Gnome, it's part of the Settings applet. In LXDE, you'll work with NetworkManager via the Network Connections applet. Note that NetworkManager has a command-line interface (CLI) utility (currently, nmcli), but I'm not going to delve into that here, because there are handy GUI utilities to do the grunt work.
I'll start with Gnome. (Folks using LXDE should skip ahead to the "Using LXDE" section.) In Gnome 3, the network status is displayed in the upper right-hand corner of your desktop. If you set up a wireless or a wired connection during the installation, you should see a WiFi icon that displays the signal strength and indicates that the connection is on. If you click on the icon, it will produce a drop-down menu that shows the status of your network connections (it should say "Connected") and things like screen brightness, user status, power, and so forth.
If you're using a wired connection, the results are mostly the same, except it displays an icon that looks sort of like an Ethernet plug. Perhaps not as universally recognized as the WiFi icon, but what can you do? Ethernet was popular long before there were desktop icons to display status for everything. But, before I start waxing poetic about the "good ol' days" or chasing whippersnappers off my lawn, I'll just move on…
If you can pull up a browser and hit the web, you're online, and all's well. If not, it's time to dive into your Network Settings and get everything configured.
Opening Your Network Settings in Gnome 3
To get to the Network Settings in Gnome 3, go back to the status menu in the upper right-hand corner and click there. It doesn't really matter if you click on the network icon, the sound icon, the battery icon, etc. They will all open the status menu.
Next, click the gear at the bottom of the menu. You'll see a dialog like Figure 1. Click the Network icon (circled in red), and you'll see the Network dialog. At the top of the dialog, you'll see an "Airplane Mode" toggle. You can hit this and turn off all networking immediately.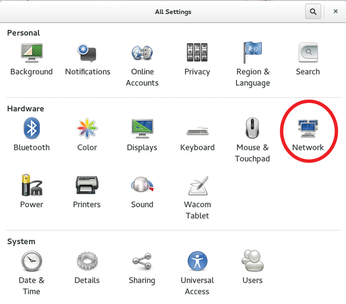 On the left-hand side of the dialog, you'll have your wired and wireless (WiFi) connections. At the bottom, you'll see a + and – icon. You generally won't need to use this; if there's a wireless or wired connection, it will already show up in the list of connections. You would use this tool to add a VPN or work with more advanced networking setups (like a bond of two network interfaces). That's a bit beyond the scope of this article, though, so I won't worry about this area.
If you click on a wired connection, you'll see its configuration and a slider button to turn it off or on. You'll also see a tiny gear icon that you can use to set advanced preferences. If you click on a WiFi connection, you'll see all the available networks you could connect to.
Now that I've given you a tour of the Network Settings, I'll jump to wired configuration.
Wired Networking
If you're using an older home desktop computer, odds are you're using a wired connection. If you've plugged in your Ethernet connection and aren't getting online, you may simply need to tell NetworkManager to go ahead and start the connection. Go to the status icon and right-click on it. Click on Wired | Connect. It will take a second or two for the reading to change to Connected. After that, you're online! Enjoy.
To see your network settings, click on Wired Settings. Here you can find out your IPv4 and IPv6 addresses (if applicable), the Ethernet card's MAC address (under "hardware address"), and the network route, and Domain Name System (DNS) servers.
This scenario assumes your network has a Dynamic Host Configuration Protocol (DHCP) server that assigns IP addresses dynamically. On most home networks, the router/firewall device acts as a DHCP server. The alternative is to configure your IP address manually. You'll learn more about manual IP address configuration later in this article.
comments powered by

Disqus
Visit Our Shop
Direct Download
Read full article as PDF:
Tag Cloud