Why Not Free?
Why Not Free?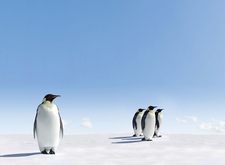 If you're still using XP, Vista, or Windows 98, you're probably not someone who likes to spend a lot of money and time chasing expensive, unnecessary new versions of things you already own. The planned obsolescence cycle of the proprietary software industry makes users like you keep paying for upgrades or risk losing essential security fixes and updates. A commercial vendor like Microsoft can't afford to support a legacy operating system forever, and if you ask them about it, they will tell you your only option is to pay more money for a newer version.
But millions have already discovered a way to escape from the planned obsolescence carousel: Linux. Linux systems are free, and they always will be. You might have to upgrade some day, but when you do, the new version will also be free. You will still receive free security updates, and actually, the security is much better than in Windows. Linux is a Unix-based system (like Mac OS), and it has built-in protection that makes it less susceptible to viruses and other forms of malware.
A Linux distribution is a collection of mostly free open source tools centered around the Linux kernel. The Linux kernel was first developed by Linus Torvalds in 1993, and since then, many big companies like IBM and Novell have invested billions of dollars into enhancing it to make it a competitive alternative to Windows, Solaris, and other commercial systems.
A Linux distribution contains thousands of other programs: desktop tools, networking utilities, management tools, business applications – enough to take care of nearly every task you can accomplish right now with Windows.
Many of the core components in Linux were developed through the GNU project, which was founded by Richard Stallman in 1983. The GNU project developed the GNU Public License (GPL), a very special software license with an ingenious rule: If you make a change that improves this software, you have to give your changes to everyone in the community. This simple rule caused a revolution in software development. All around the world, programmers can improve a GPL program, and the improvements are echoed back to the rest of the world. The accelerated development unleashed by the GPL has helped Linux get better in a hurry. A few years ago, Linux had the reputation of being powerful, but challenging for beginners; now you will see that Linux looks and feels very much like Windows, Mac OS, or any other user-friendly desktop system: Boot to a graphical user interface and click on icons with your mouse.
This special issue shows you how to get started with Linux. The attached DVD includes the popular Fedora Linux distribution. If you prefer a different Linux alternative, such as Ubuntu, Mint, or openSUSE, you can still use many of the tools and techniques described in this issue, but some of the configuration details might differ.
Unlike Windows and Mac OS, Linux does not lock you into a specific user interface with a standard look and feel. Several different desktop systems are available for Linux, and each desktop has its own collection of applets and tools, as well as its own look and philosophy. The main version of Fedora on the DVD uses the Gnome desktop. The other side includes a version of Fedora that uses the alternative LXDE desktop, which is designed to run on older systems with limited hardware resources. Choose the system that works best for your situation. Once you get accustomed to Linux, you might want to try experimenting with one of the other available desktops, such as the ever-popular KDE.
The articles in this special issue show you how to install and configure Fedora. You'll also learn how to manage and troubleshoot your system, and we'll help you get started with the tools you'll need to make Linux part of your everyday life: browse the web, finish photos, play games, create documents and spreadsheets, and manage your email. If you're ready for a new world of living without Windows, turn the page and get started.

Joe Casad,
Editor in Chief
comments powered by

Disqus
Visit Our Shop
Direct Download
Read full article as PDF:
Tag Cloud