Alternative file manager for Gnome
Bookmarks and Plugins
As with all current Web browsers and file managers, Gnome Commander can handle bookmarks (see Figure 2). Either enter new addresses in the Bookmarks menu Add bookmark… section, or just click the bookmark icon above a directory window.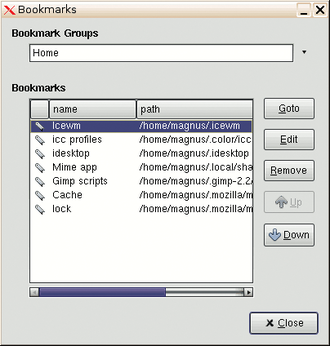 If you select Edit bookmarks …, you can easily edit and group your existing bookmarks.
Gnome Commander has much more in the line of features than I can cover in this article. For example, the program lets you define individual keyboard mappings or add plugins to extend functionality.
Currently, only two plugins appear to be available, but programmers should feel free to contribute more.
Conclusions
The roadmap for the next major version includes a shift to the new virtual filesystem library, Gio/GVFS, which Nautilus uses heavily. This might improve interaction with the virtual folder when writing CDs or DVDs.
The interface also needs some tender loving care: Display errors with too-narrow windows spoil what is otherwise a very usable interface.
If you are looking for a useful alternative to Nautilus and already have some experience with, for example, Midnight Commander, you will have no trouble at all moving to Gnome Commander.
comments powered by

Disqus