Meet the Totem media player
Using Totem
It's a bit of an anticlimax to describe its use. Just open a file or location from the Movie menu, and Totem automatically starts to play it. Alternatively, you can select a playlist entry and click the Play button or just double-click the file name to start playback.
Because Totem is the default Gnome movie player, you can also double-click on any video file in Nautilus to start playback via Totem. For more delight, Heron has also deployed Totem as its default plugin for playing streaming video from Mozilla.
To the Test
After configuring Heron with the extra GStreamer plugins, I tested Totem with files in a variety of formats, including AVI, MPEG, WMV, FLV, and MOV. All performed with flawless sound and video, so I moved on to testing Totem with my DVD collection.
Again, performance was flawless on my unencrypted DVDs, and with libdvdcss2 installed, Totem had no trouble playing my commercial encrypted discs.
The YouTube browser is a neat feature in Totem. As mentioned, when the browser plugin is installed, the sidebar's drop-down menu includes an entry for it. Select the browser, and the sidebar will reform itself to provide a textbox for text strings that define your YouTube search.
Figure 4 shows the results of my search for "tai chi chuan." The sidebar splits itself into two tabbed displays of thumbnails: one for the direct results of the search and another for related videos. Frankly, I found this feature to be ultra-cool, and I wouldn't be surprised if it turns up in other media players for Linux.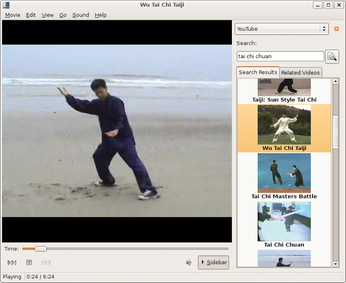 Other plugins of interest include the Local Search and the DVB plugins. Local Search scans your drives for supported media files and lists them in the playlist, whereas the DVB plugin adds the capability to view digital video broadcasts.
Manuals
At this time, Totem's user manual is a work in progress. It's not so extensive as the Rhythmbox manual, but Totem's operation is so transparent that even a newbie might never need to open it. However, if more information is needed, see the sites listed in the Resources at the end of this article.
comments powered by

Disqus