Slim and sleek Linux distro
Hard-Disk Install
Although SliTaz is a Live CD Linux distribution, you can install it easily on your hard disk, and the distribution includes its own graphical installer that makes the installation process a breeze (Figure 4). Unfortunately, the SliTaz Installer is in French (the developers plan to fix this issue soon), but it's so easy to use that you should be able to figure out most of its options.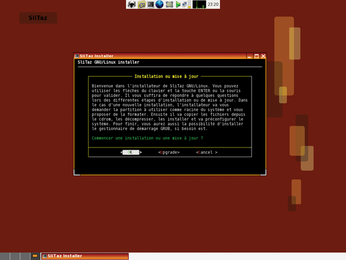 Before you can install SliTaz onto a hard disk, make sure that it has a separate ext3 partition. If it doesn't, you can use the GParted disk partitioner to create one. Launch the SliTaz Installer tool and press OK in the first screen to choose the option to install SliTaz. In the next screen, specify the installation partition; press the List button to display a list of available partitions. To begin the installation, press OK. After the installation is complete, the system prompts you to choose where to install the GRUB bootloader. After you choose the default option, you are done.
Tazpkg
One of the major advantages of installing SliTaz on the hard disk is that it allows you to tweak the system and install additional applications. To do the latter, SliTaz provides its own package manager called Tazpkg. Similar to apt-get on Debian, Tazpkg allows you to install and manage packages on your system easily.
To install a package with Tazpkg, launch the package manager by choosing System Tools | Package manager from the SliTaz menu. To become root, use the su command, then run the recharge command to refresh the list of packages available on the official mirror. To see whether the mirror contains the package you want to install, you can use the search command, for example:
search abiword
Alternatively, you can view a list of all packages available on the mirror with the list-mirror command. The get-install command lets you install the package you want:
get-install abiword
To remove installed packages from your system, use the remove command:
remove abiword
Two other useful commands are clean-cache and upgrade, which allow you to remove .tazpkg packages downloaded to the cache and upgrade the installed packages, respectively.
Although the list of available SliTaz packages is rather short compared with mainstream distributions such as Ubuntu or Mandriva, it does contain a few useful packages, including the Sylpheed email client, the Pidgin IM application, and the Inkscape vector graphics editor, as well as GCC, make, Perl, Python, and an assortment of utilities. The cooking version of SliTaz provides access to even more packages, including the HomeBank personal finance manager, the NoteCase note manager, the XSane scanning front end, and others.
After you've tweaked the system to your liking and installed the packages you need, you can turn it into a customized version of the SliTaz Live CD. To do so, use Tazlito [5], SliTaz's easy-to-use distribution remastering tool, which can generate a ready-to-use .iso image based on your current system (Figure 5). To launch the tool, choose SliTaz Menu | System Tools | Tazlito LiveCD Tool and press the Gen running distro button. It takes Tazlito about 5-10 minutes (or longer, depending on how many packages you have installed on your system) to generate the .iso image, which you can then burn onto a CD.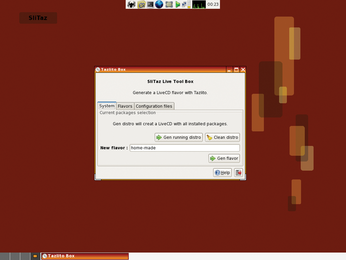 Tazlito has other clever tricks up its sleeve. For example, you can create a ready-to-burn disk image from the list of available SliTaz derivatives called flavors. To do this, switch to the Flavors section on the SliTaz LiveCD Tool and press the Recharge list button to refresh the list of available flavors. To view the list of SliTaz flavors, press List flavors, then pick the one you want and enter its name in the field. Next, press the Get flavor button to obtain the required configuration files, and press Gen flavor distro to generate an ISO image of the flavor. You can use Tazlito to burn the generated image to a CD, but this command is not accessible through the Tazlito LiveCD Tool, so you have to run the tazlito burn-iso command in the terminal.
Finally, SliTaz has yet another tool that deserves a brief mention. Although you can use third-party tools such as UNetbootin to create a bootable SliTaz USB stick, SliTaz comes with its own tool, TazUSB, that lets you install SliTaz on a USB stick. When you want to boot SliTaz on a machine without a CD-ROM drive (e.g., netbooks like the Asus Eee PC or Acer Aspire One), this utility can come in handy. TazUSB is a command-line tool, but it is easy to use. Just run the tazusb gen-liveusb /dev/name command (replace /dev/name with the actual USB device name), and TazUSB creates a ready-to-use bootable USB stick with SliTaz on it.
Final Word
Despite its size, SliTaz is a surprisingly well-featured Linux distribution. The hand-picked software selection will help you stay productive, and nifty tools like Tazpkg and Tazlito allow you to install additional packages and roll out your own version of SliTaz.
Of course, the diminutive size means there are some trade-offs. For example, SliTaz doesn't contain any wireless drivers – although you can add them with Tazpkg – which makes it less suitable for laptops.
But if you are looking for a distribution to revive an old PC or you want a bootable Linux CD handy, SliTaz is just the ticket.
comments powered by

Disqus
News
Both projects help organizations build their own containerized systems.

Mark Shuttleworth has resumed the position of CEO of Canonical.

Microsoft's open source code hosting platform CodePlex will come to an end after a more than 10-year stint.

Comes with Gnome 3.24

The bug was introduced back in 2009 and has been lurking around all this time.

The new release deprecates the sshd_config UsePrivilegeSeparation option.

Lives on as a community project

Five new systems join Dell XPS 13 Developer Edition that come with Ubuntu pre-installed.

The Skype Linux client now has almost the same capabilities that it enjoys on other platforms.

At CeBIT 2017, OpenStack Day will offer a wide range of lectures and discussions.
Tag Cloud