Code Statistics: KDE Costs 175 Million Dollars
Oct 12, 2009
The official KDE Project currently consists of 4.2 million lines of code. Cornelius Schumacher has applied the lines to individual projects and published the stats.
The current source code of the KDE core module contains 4,273,291 lines exactly, reports Schumacher in his blog. Almost half the lines are taken by the three largest projects, kdebase, kdelibs and kdepim. The KDE-Edu team takes fourth place in the code stakes followed by kdebinding and network modules.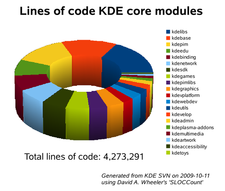 The blog points out that the figures record only the code-lines of the core module, with KOffice and several other programs consisting of many more lines of code. Schumacher also points out that the best developers shorten programs by removing unnecessary code. He insists his figures are valid and provide a general overview of the current situation at KDE.
Cornelius Schumacher generated the figures using SLOCCount from David A. Wheeler, calculating the value of the software, (development costs in particular), at $175,364,716.
Comments
November 11th?

"Status Quo of KDE projects from November 11. "

that certainly isn't right, is it? November isn't here yet.

How much would it cost if it was outsourced to India

I am curious how much it would cost if it was developed overseas, like India?
comments powered by

Disqus

Issue 199/2017
Buy this issue as a PDF
Digital Issue: Price $9.99

(incl. VAT)
News
Both projects help organizations build their own containerized systems.

Mark Shuttleworth has resumed the position of CEO of Canonical.

Microsoft's open source code hosting platform CodePlex will come to an end after a more than 10-year stint.

Comes with Gnome 3.24

The bug was introduced back in 2009 and has been lurking around all this time.

The new release deprecates the sshd_config UsePrivilegeSeparation option.

Lives on as a community project

Five new systems join Dell XPS 13 Developer Edition that come with Ubuntu pre-installed.

The Skype Linux client now has almost the same capabilities that it enjoys on other platforms.

At CeBIT 2017, OpenStack Day will offer a wide range of lectures and discussions.
Tag Cloud