Lenovo Skylight: First Netbook with ARM CPU
Jan 06, 2010
A year ago Qualcomm announced the Snapdragon platform with ARM processor at the Consumer Electronics Show (CES) 2010. Now the first real devices are coming to market. The operating system is Linux.
Lenovo is making the invitation to the dance of the awaited netbooks at this year's CES with its Lenovo Skylight model, as Engadget reports. The very flat and unusually rounded device is to become available in the U.S. in April at a price of about $500, possibly even lower if a 3G arrangement with AT&T works out. Lenova, per its press release, should make the device available in China and Europe later in the year.
The Linux system developed by Lenovo, but not further specified, displays some rather nice gadgets on its screen, 18 of which should be preloaded on the device when it comes out April 18. The integrated ARM processor is rated at 1 GHz, although it's not clear from the specifications whether it applies to the single- or double-core processsor version.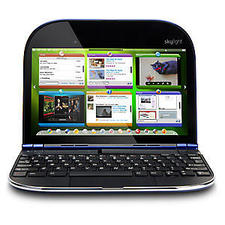 The screen display is a positive feature. At 10.1" it resolves to 1280 x 720 pixels. A 20-GByte Flash and an additional 8-GByte mini-SD card provides users storage. Two USB ports and a 1.3-megapixel webcam complete the hardware. Lenovo gives the battery life at 10 hours. The device weighs under two pounds.
Comments
how to install Linux on skylight

can i install Linux on skylight ?

if yes, how ?

thanks.

watch the video

the thing sticking up is shown in the video. its a usb stick that integrates with the casing.

Finally!

Someone is taking arm netbooks seriously. The price seems rather steep at an estimated $600, but a true 10" screen, a reasonable amount of storage (although I welcome a conventional HD option for larger datasets), and plenty of ram. they question is can you really get 10 hours of battery, or is it more like the newer Intel Atoms which state 9 hours but in actuality, give about 6.

This is promising, let's see if they can get the price down to the competitive with other netbooks.

The object poking up is an integrated USB storage stick

"The object poking up is an integrated USB storage stick."

Funny, I thought the object poking up was the display. Otherwise, I don't see ANYTHING "poking up."
comments powered by

Disqus

Issue 199/2017
Buy this issue as a PDF
Digital Issue: Price $9.99

(incl. VAT)
News
Both projects help organizations build their own containerized systems.

Mark Shuttleworth has resumed the position of CEO of Canonical.

Microsoft's open source code hosting platform CodePlex will come to an end after a more than 10-year stint.

Comes with Gnome 3.24

The bug was introduced back in 2009 and has been lurking around all this time.

The new release deprecates the sshd_config UsePrivilegeSeparation option.

Lives on as a community project

Five new systems join Dell XPS 13 Developer Edition that come with Ubuntu pre-installed.

The Skype Linux client now has almost the same capabilities that it enjoys on other platforms.

At CeBIT 2017, OpenStack Day will offer a wide range of lectures and discussions.
Tag Cloud